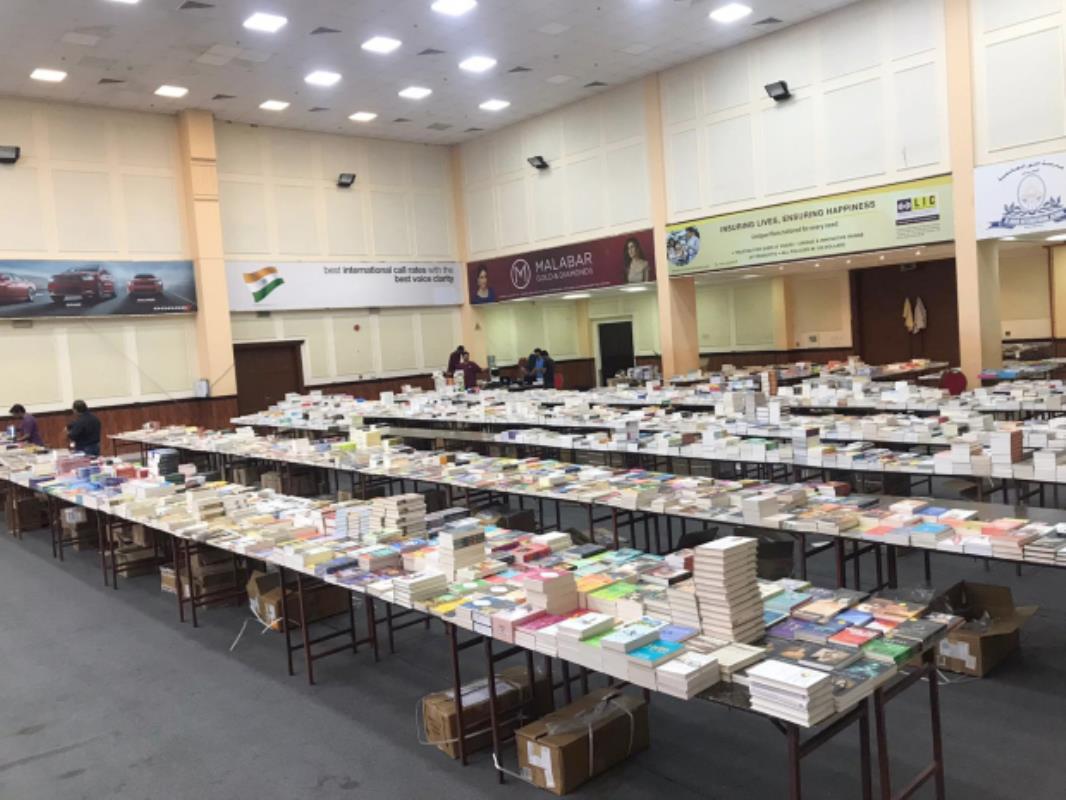 Art exhibitions, a children's story corner, thousands of books and the longest handwritten Quran are some of the attractions of the BKS International Bookfest 2020.
Renowned author Shihabuddin Poythumkadavu gave a speech during the soft opening of the event yesterday which was followed by a preliminary round of QLIT – the international and Indian literature quiz for children and adults along with a story writing competition for students.
A display of books in the thousands from a multitude of publications, the main feature of the event, also opened to the public last night.
The festival, organised by the Bahrain Keraleeya Samajam (BKS), will be officially inaugurated tonight by Kerala Legislative Assembly's opposition deputy leader Dr M K Muneer, accompanied by award-winning authors K R Meera, who will inaugurate the bookstalls, and Mr Poythumkadavu.
A classical dance performance, choreographed and performed by talent in Bahrain, will follow the inauguration.
A Malayalam literary camp for adults, conducted by authors Mr Poythumkadavu and Ms Meera will be held tomorrow from 10am to 4pm while simultaneously an English literary camp for children will be conducted by author Craig Copland, Joel Indrupati and Meera Ravi.
A group painting, 'Unity', will commence at 3pm tomorrow along with a cover designing competition for students followed by an interactive session at 5pm with Dr Muneer and the formal release of Ms Meera's book Kadhayezhuththu along with a talk on women empowerment by the author.
The finale of the QLIT 2020 will be held at 9pm.
On Saturday, the release of the book Anubhavam Orma Yathra by Mr Poythumkadavu will be held at 7.30pm, while a poetry writing competition for students will be held simultaneously.
This will be followed by a session of 'Cracking Cryptics', on conquering crossword puzzles, by a prominent cruciverbalist, Sowmya Ramkumar.
Meanwhile, on Sunday prominent media stalwart Rajdeep Sardesai will address a gathering in Bahrain for the first time ever at 8pm during the book festival.
The consulting editor of the India Today group is also the host of the prime-time show on India Today television and will discuss how Prime Minister Narendra Modi won in 2019 and an interactive session will follow.
Cultural programmes will be held on Monday in the presence of prominent Malayali author Subhash Chandran along with art exhibitions, the world's largest handwritten Quran and much more on the premises of the BKS in Segaiya.
Entry is open to all.
For more details, call Firos Thriuvathra on 33369895, Shabini Vasudev on 39463471 or Hrikrishnan on 66759842.