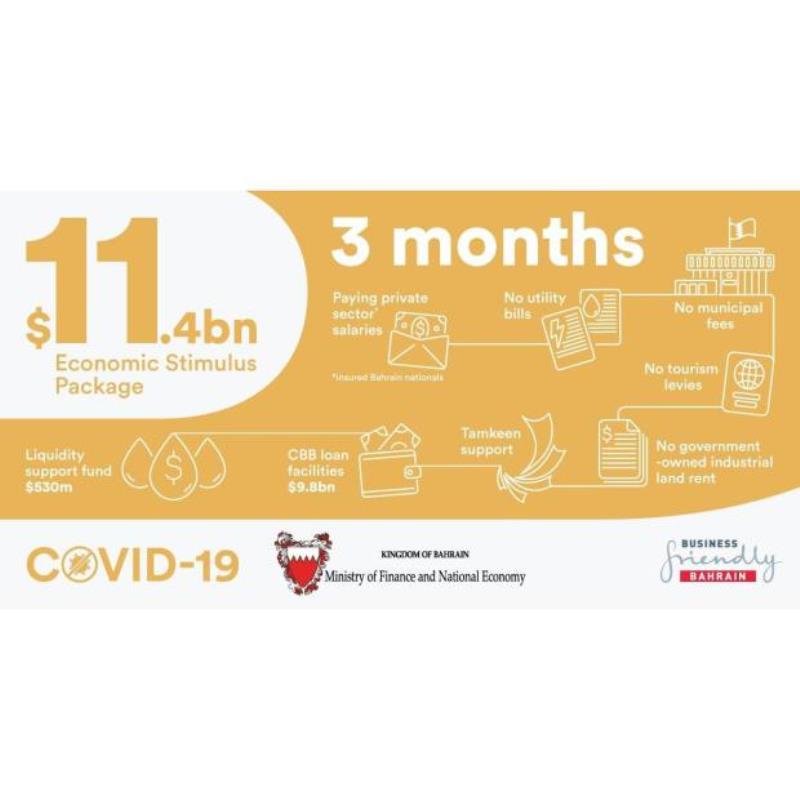 AN average of 6,000 foreign workers lost their jobs in the past two months due to the impact of the coronavirus (Covid-19) on businesses, a senior government official has revealed, writes the GDN's Sandeep Singh Grewal.

However, ongoing efforts by the Bahrain government have ensured that a greater number of expatriate workers are being absorbed into the economy.
Labour Market Regulatory Authority (LMRA) chief executive Ausamah Al Absi said all efforts were being made to protect the rights of the workers.
"We are in constant touch with the employers to ensure they continue to provide accommodation and food to their staff even if the business is not operating, while we follow up on the unpaid wages issue."
The official pointed out that based on the available numbers more people were being absorbed into the economy compared to those losing their livelihoods.
He said the total number of irregular expats is lower now than it was in the beginning of the year.
"We have so far absorbed more than 17,000 migrant workers in the economy since the launch of the amnesty on April 1.

"They were absorbed mostly by new employers through the amnesty that continues until December, and they benefited from the three-month waiver on issuance and monthly fees and the flexi work permit."
Those applying and availing of the amnesty are not required to pay fines and can leave Bahrain without any penalties, while the flexi work permit fee has been drastically reduced for three months.
Expats who lost their jobs or at the risk of losing their livelihoods can now sponsor themselves for less than BD200, and stay in the country for a year.
The government regulator is now charging BD182 that includes BD90 travel ticket and BD72 for health insurance, while waiving off the BD250 flexi permit fees until next month.
The permits are available to illegal expatriates with expired or terminated work permits, those who have not been paid salaries and have filed cases against their employers, and expats whose workplace has a cancelled Commercial Registration.
Mr Al Absi also highlighted a wide range of measures undertaken by Bahrain to protect migrant workers. He was speaking during an online meeting with senior British MPs and Bahrain's Ambassador to the UK Shaikh Fawaz bin Mohammed Al Khalifa, on the country's efforts to tackle the pandemic.
"Until the end of the amnesty, and since travel is not possible to either bring in new workers or send irregular ones home, Bahrain is seeking to legally absorb irregulars in the economy, and will continue to help those who have lost their jobs find gainful employment and regularise their stay," Mr Al Absi told the British MPs.

"Xenophobia was one of our biggest concerns but people have shown that they are welcoming.

"We do not want migrant workers to leave unless they wish to because they have built our country and are our valued guests and members of our society but their stay must be legal."
He said expats who lost their jobs will be paid their due wages.
"The workers' dues will not be written off."
Mr Al Absi said more than 23,000 hot meals were provided daily to the migrant workers in co-operation with the Royal Humanitarian Foundation.
Bahrain's efforts were praised by UK Shadow Minister for Defence Procurement Khaled Mahmood during the online meeting.
"Migrant workers are in a volatile state around the world and if they lose their jobs they lose everything," he said.

"We thank Bahrain for its treatment of migrant workers."
Shaikh Fawaz told British MPs that Bahrain provided free Covid-19 treatment and follow-up to citizens and non-citizens.
"We have the highest testing rate per capita in the world and have built specialised hospitals in a short span of time to treat the patients," he said.
British Ambassador Roderick Drummond said the nearly 5,000 Britons in Bahrain felt safe and comfortable because of the kingdom's "solid response" to the pandemic.
"Bahrain will continue to be an effective long-term hub in terms of trade, and its open attitude helps us," he said.
To offset the financial impact of the pandemic on businesses, the government announced a BD4.3 billion stimulus package and has already waived electricity and water bills, along with municipal fees and labour fees, while it is also paying the wages of Bahrainis in the private sector for three months and has asked banks to defer loan instalments for six months.