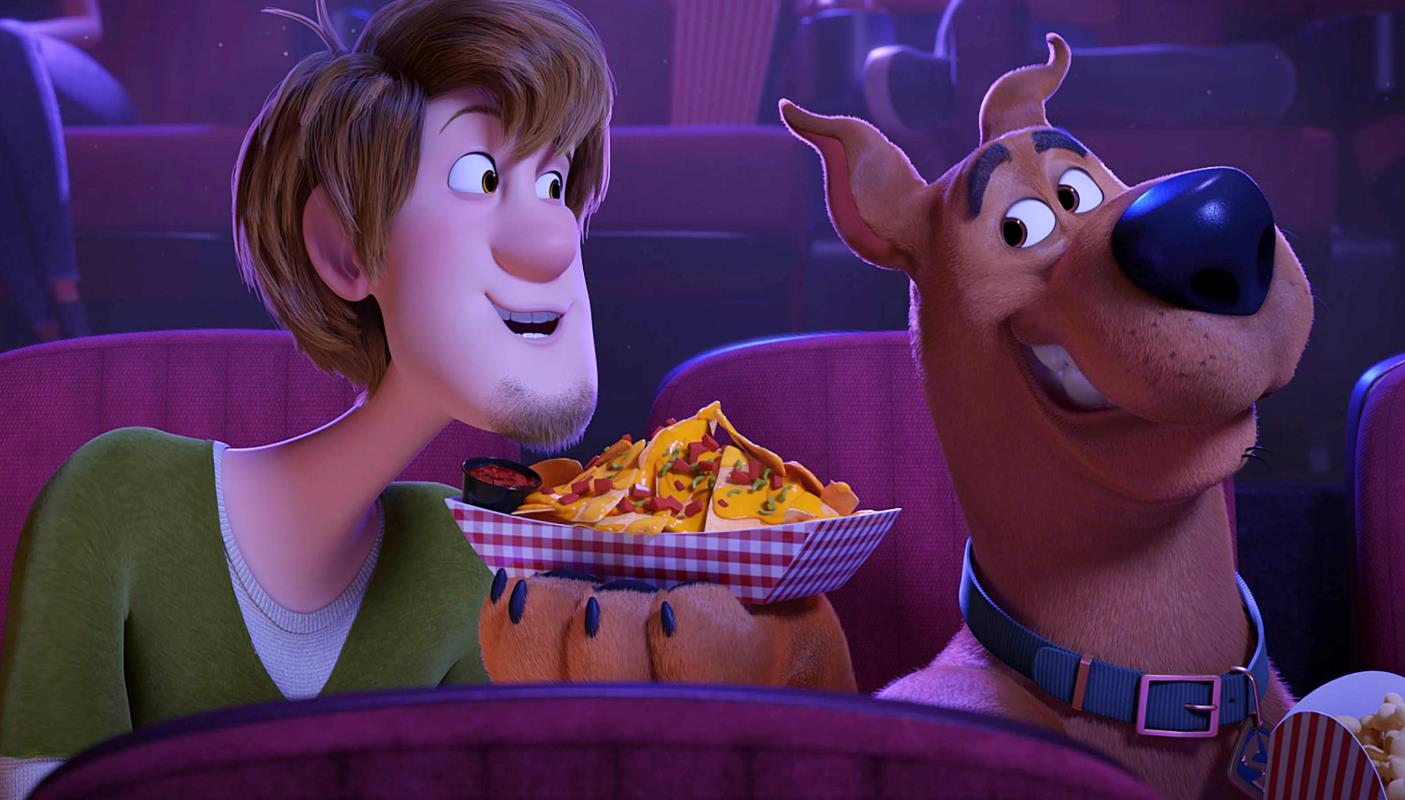 Scooby-Doo and the Mystery Inc. gang make the leap to CG feature animation in Scoob!, a sweet, amusing family flick that was supposed to open in cinemas until well, you know, and is now debuting on various Video-On-Demand platforms such as Apple TV or YouTube instead.
At a brisk 90 minutes, Scoob! is a nice, light snack for parents and kids stuck at home these days, with enough silly gags for children to get a kick out of and enough knowing references for adults to appreciate.
The more one knows about classic Hanna-Barbera cartoons the better as Scoob! is essentially a shared universe film. New viewers will learn enough about these reimagined and contemporised versions of Blue Falcon, Dynomutt, Dick Dastardly, Dee Dee Skyes and the like to get it, but the greater the knowledge one has of these old toons the more all the references and Easter Eggs will be appreciated.

As for the hotly debated casting of Will Forte as Shaggy, while it's understandable that some fans may have grown attached to Matthew Lillard's incarnation of the character (in both live-action and animation) and are upset that a new actor is voicing Shaggy here, it bears reminding that Lillard himself took over the role following another actor's iconic interpretation and faced backlash online at the time. Forte's interpretation of the character is fine, perhaps sounding a bit less scratchy than Lillard or Casey Kasem's voices, but his Shaggy is as sweet, dopey, and easily rattled as his predecessors.
Of the main Mystery Inc. quintet, Fred - voiced by Zac Efron - is the character who has been tweaked the most. He has a bit more personality and is less wooden than some past incarnations, his necktie is gone, and while he still does all the driving, Fred's not exactly the team's de facto leader here as each member gets their moment to take charge or make an important decision.
That said, this movie is decidedly a Shaggy and Scooby story through and through. An extended pre-credits prologue reveals not only how young Shaggy met little Scoob but also how the Mystery Inc. gang came to be and their first ghostbusting mission as kids. Shaggy and Scooby's meeting is as adorable as you'd hope, with each character filling a void in the other's life. The movie has a lot of heart and keeps the thematic emphasis throughout on friendship - not just between humans but also between people and their pets.

The film's exploration of the human-canine bond goes beyond just Shaggy and Scoob to Blue Falcon and Dynomutt and even to villain Dick Dastardly, who fans will recall had his own four-legged sidekick named Muttley in the old cartoons.

Scoob! is also a save-the-world adventure film, complete with superhero allies and a big bad with a robot army. The action is plentiful, with lots of sci-fi gadgetry and vehicular set-pieces thanks to Blue Falcon and Dick Dastardly.

The earnest and entertaining Scoob! is a perfectly fine distraction for kids and parents stuck at home, with enough cute and amusing elements throughout to keep viewers engaged. The movie gets a lot of heartfelt mileage out of its exploration of the relationship between man and his four-legged best friend, even if its messaging is simplistic and superficial.
Kristian's rating: 3/5