Hippos are really dangerous!
Always. Hippos are dangerous, extremely aggressive and powerful. They might look fat and friendly, (although it is true that they are fat, they can run like the wind, do not be fooled) but anything that has the nerve to bother them will shortly be a folk tale. They can chomp boats in half and have been known to throw boat passengers overboard and kill them. (By flipping the boat over)
In Africa number of people killed by Hippos more than Lions and cheetahs.
Even though they are vegetarians.
Hippos are vicious, unfriendly beasts that weigh up to 9,000 pounds and have teeth about 40–50 cm long. They will do everything in their effort to get rid of anything that they don't like. And they are always successful at it.
I would say there is no other animal that is more likely to attack you for no good reason.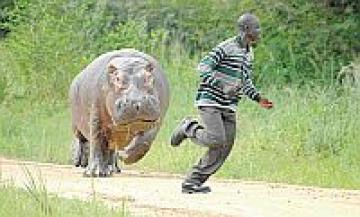 Hippo attacking an African