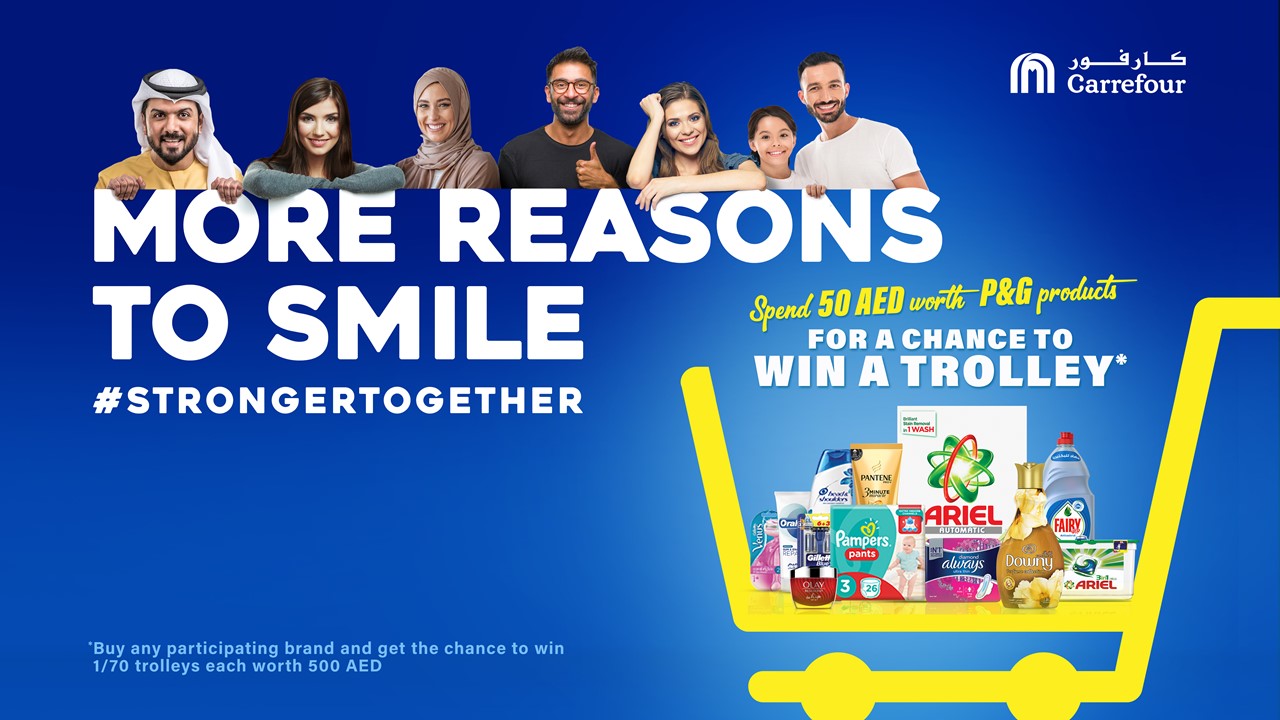 Procter & Gamble (P&G) has partnered with Carrefour, operated by Majid Al Futtaim in the UAE, to launch "Stronger Together, 100s of Reasons to Smile" campaign for ten days starting 16 September, under which the company is urging consumers to capture candid smiles to help celebrate a return to normal lives whilst following safety measures.
As part of its Stronger Together initiative, P&G has announced unique activations that offer consumers a chance to win trolleys worth 500 AED, when buying P&G products worth 50 AED from any Carrefour hypermarket across Dubai. P&G is excited to team up with Carrefour, a like-minded partner that recognizes and caters to the unique needs of consumers.
Shoppers can also to head to the "100s of Reasons to Smile" booth at Carrefour stores and take a picture with the hashtag #StrongerTogether, which will be featured on a massive "smile collage" representing solidarity and strength to drive a message of positivity and unity. Phase 1 initiative collected over 900 smiles from all over the UAE in August, with a massive collage of smiles on display at Mall of the Emirates from September 22 to 26, 2020.
Mohamed Hamouda, Sales VP at Procter & Gamble Gulf said: "As a force for good, P&G believes in giving back to the communities where we operate, and we aim to make a difference to the lives of our consumers as they adjust to the new normal. The cause coheres with P&G's brand proposition of bringing back your smiles. #StrongerTogether is a simple initiative at heart to ensure we are able to enjoy every moment whilst being safe and make good choices."
Known for its iconic products, P&G has traditionally brought smiles to the consumer through its endeavor to help improve lives every day and this campaign is an extension of the brand's core philosophy. Consumers' choice to trust P&G products in their homes helps the company make a difference around the world—where they can impact lives more than ever.
To learn more about the P&G brands that are bringing your smile back, visit en-ae.pg.com.