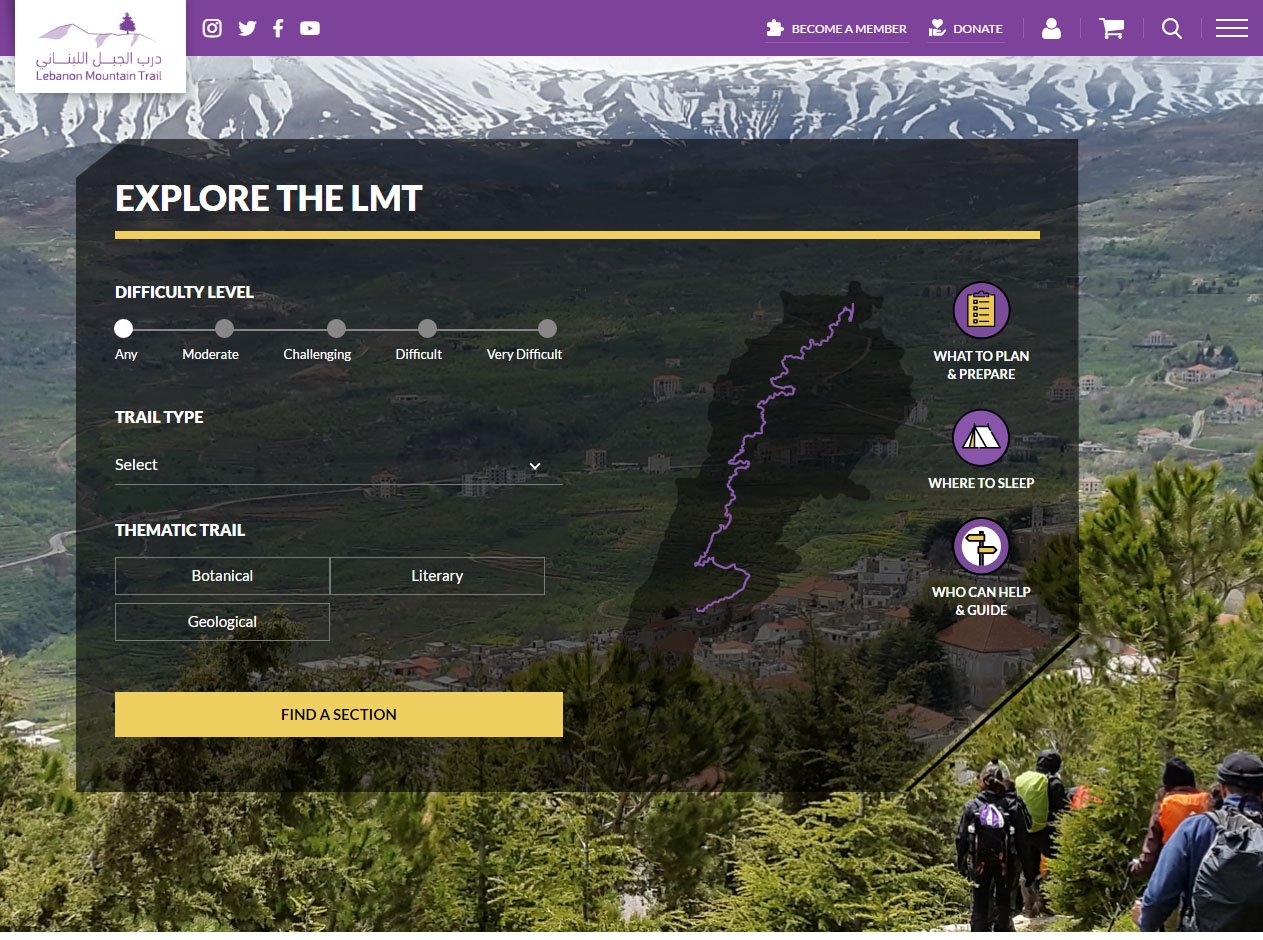 Lebanon mountain trial challenge track.
Support Beirut with this virtual Lebanon Mountain Trail challenge
In partnership with the Lebanon Mountain Trail Association, we are calling on avid trekkers to take part in The Big Beirut Relief Challenge by virtually hiking a 59.2 km trail to raise funds for the Lebanese Red Cross in its relief efforts for the victims of the Beirut port blast.
Taking place over eight days, from Saturday 19 to 26 September, hikers will have the opportunity to trek virtually online through the beautiful hiking trails of Lebanon, while raising funds for the charity.
Helene Abi Assi, Communication Coordinator of the Lebanon Mountain Trail Association said:
"The LMTA is proud to support Gulf for Good in its continuous relief efforts to the victims of the Beirut explosion. We've come together to bring to life Gulf for Good's exciting virtual LMT Charity Challenge, in support of the Lebanese Red Cross.
We are deeply inspired by this creative solution which is providing a platform allowing people to virtually hike the Lebanon Mountain Trail from anywhere in the world and raise funds in support of Lebanon; at a time when lockdowns and social distancing have made real-time events impossible. We hope this initiative will provide a new opportunity for people to discover the LMT while also supporting the Lebanese people after the tragic events of the past month."
In response to the explosion, the Lebanese Red Cross is providing emergency shelter for 1,000 families and anticipates providing shelter for as many as 10,000 families in the coming months. Food, water, hygiene kits, masks, gloves, and other essentials are being distributed to vulnerable families in need.
To meet emotional support needs, trained team members are providing crisis counseling to the community. For family members that have been separated by this event, the Red Cross Restoring Family Links program is reconnecting families.
The event is promoted by Dubai Sports Council and supported by Gulf Multi-Sport and Inphota which are on board to track participants throughout the trek via the Strava App.
Andrew Laity, Inphota, said: "We're pleased to be able to launch these initiatives with Gulf for Good, which does so much to support underprivileged children around the world. Our aim is that the Inphota technology can help free up the team's time by streamlining the registration and results capture process."
Because this event is virtual, participants can sign up from anywhere around the world by clicking on this link. please go to the website.
Steve Watson, Gulf Multi-Sport, said: "Gulf Multi-Sport, in collaboration with our partner, Inphota, embraces Corporate and Social Responsibility Causes that engage the wider community in physical activity whilst supporting a worthy cause."
This event is approved by the Islamic Affairs and Charitable Activities Department, license number 3245.