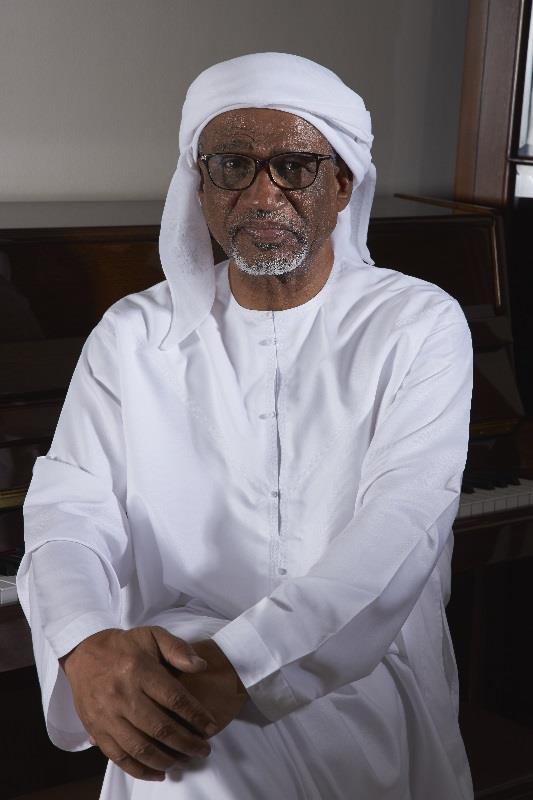 Abu Dhabi's Cultural Foundation, managed by the Department of Culture and Tourism – Abu Dhabi, has announced three new exhibitions presented as part of its visual arts programme, which features established and emerging artists from the UAE, the Middle East and beyond.
The series begins with an exhibition dedicated to the life and career of Emirati painter and sculptor Abdulrahim Salim, a pivotal figure in the development of the UAE art scene. Abdulrahim Salim: Between Chaos and Serenity is a survey of the artist's major paintings, examining his recurring narratives and the breadth of his artistic expression.
Divided into six chapters - Formations, Creation and Destruction, Conversations, Struggle and Waiting, Formations of Maheerah, and Me and She and the Apple and the Crow - the exhibition explores Salim's investigation of dualistic subjects and their inner conflict or struggle, with works oscillating between the figurative and the abstract.
A second, related exhibition, Maheerah, brings together figurative and multimedia artists to celebrate Abdulrahim Salim's work and influence with a reinterpretation of one of his recurring thematics around his muse, the titular Maheerah. The exhibition sees ten multimedia artists bring the character of Maheerah to life through short films, while 25 figurative artists embody her character in oil, water and acrylic portraits.
Maheerah participating artists are: Abdelrahim FarajAllah, Abir Tabbara Tukan, Ahmed Al Falasi, Arwa Al Salami, Bernard Jouaret, Buthaina Bin Lahej, Chandeep Seth, Charlie Vellagracia, Daniel Malak, Hajar Al Miskari, Issam Akel, Jack Lee, Khalid Al Astad, Lamya Al Shamsi, Ludmila Panenkova, Mana Al Marbooei, Maitha Al Muhairy, Mariam Al Binali, Mohamed Al Kaabi, Muneera Naji, Ola Allouz, Oussama Agazoum, Randa Haddadin, Rashid Al Mulla, Reem Al Mazrouei, Reynaldo Tambong, Rima El Debs, Saggaf Al Hashemi, Salem Al Jenaibi, Salma Elbanna, Sameer Al Jaberi, Sarah Al Adayela, Sarra'a Abdulaziz, Sheena Mathottatil and Sultan Al Yafei.
The third and final exhibition, Wonder Writers, presents a collection of short stories by students from the 12 Aldar Academies in Abu Dhabi and Al Ain, each selected through an Arabic creative writing competition held in the 2019-2020 school year. The winning stories range from explorations of the young writers' awareness of social, cultural and environmental issues, to musings on the everyday struggles of a student, or a thrilling action adventure in uncharted jungles, and much more.
Six of these winning works, by students Noura AlHammadi, Hamdan AlMazrouei, Qais Abu Hantash, Shamsa AlQubaisi, Shaikha AlShebli and AlReem AlQubaisi, will be transformed into a literary wonderland of their own making, with three illustrators commissioned to bring the stories to life. Wonder Writers will also feature 23 additional stories from the competition's runners-up.
"Cultural Foundation's upcoming exhibitions are diverse and rich offerings which exemplify our efforts to deepen understanding of the arts, showcase home-grown artistic practices and drive cultural conversations," said HE Mohamed Khalifa Al Mubarak, Chairman of the Department of Culture and Tourism – Abu Dhabi. "As a world-class centre for the arts, Cultural Foundation is committed to contributing to the growth of the emirate's cultural ecosystem by supporting and nurturing artists. This includes a special focus on established Emirati artists such as Abdulrahim Salim, those key pioneers of the local art scene who have done so much to advance artistic movements and discourse in the UAE. It is our honour to be able to provide them with a platform through which they can further interrogate their practices, enter into new artistic dialogues and introduce their work to ever wider audiences."
Running from 22 November 2020 to 22 February 2021, the exhibitions are located in Cultural Foundation's exhibition halls and are open from 10 am to 7 pm (Fridays from 2 pm).
Cultural Foundation has strict safety measures and precautions in place in accordance with government guidelines, ensuring visitors' peace of mind.
The exhibitions will also be made available for viewing online, providing audiences direct access from the comfort of their homes.