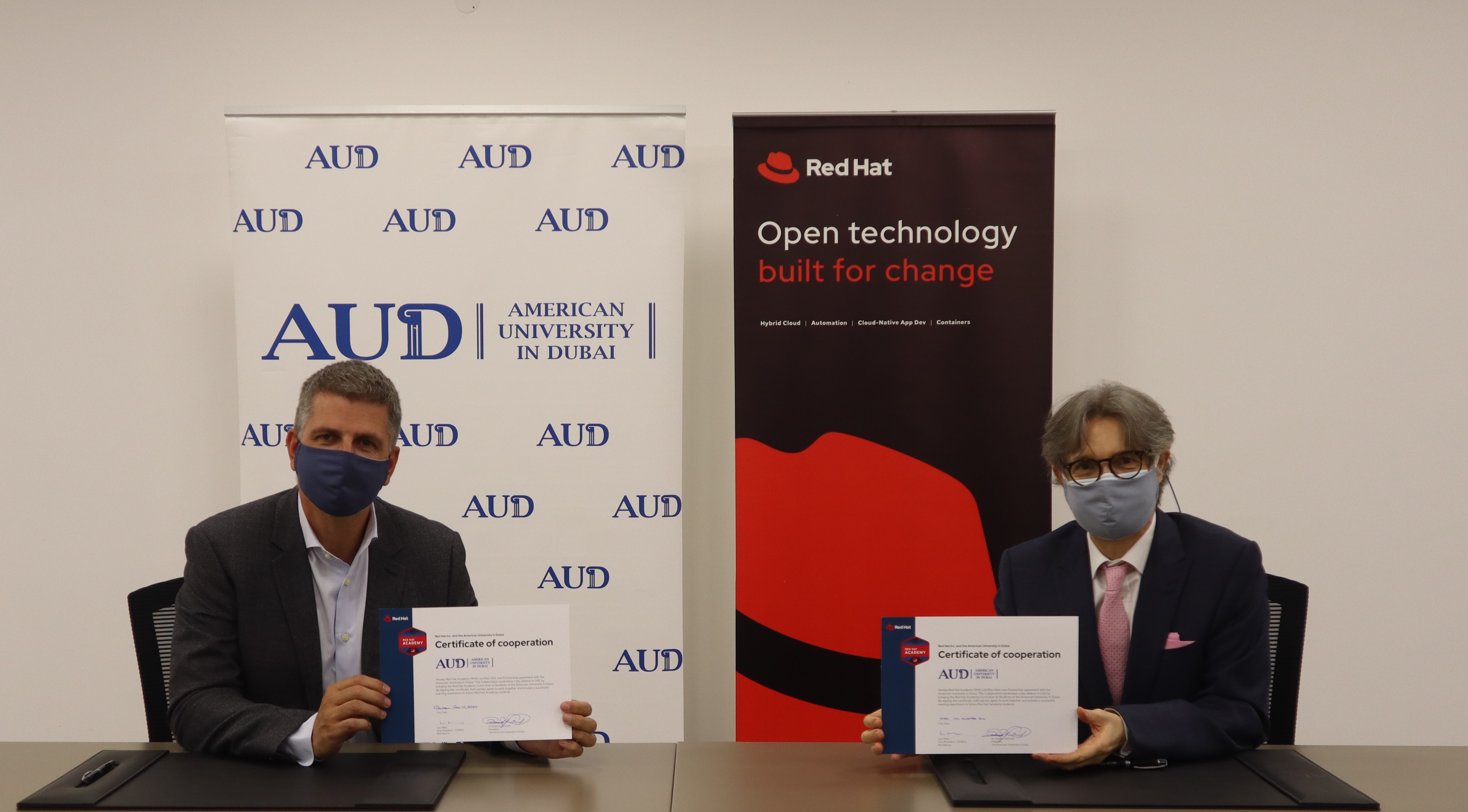 The American University in Dubai (AUD), today announced that it has collaborated with Red Hat to create the AUD Red Hat Academy. Red Hat Academy is an open source, web-deployed and web-managed education programme that is designed to provide turnkey curriculum materials to academic institutions to start and sustain an open source and Linux curriculum programme.
Located in one of the most dynamic cities in the world, AUD's School of Engineering has positioned itself at the forefront of engineering education in the UAE and beyond. The School offers undergraduate programs leading to Bachelor of Science degrees in Civil, Computer, Electrical, and Mechanical Engineering, as well as a Master of Science in Construction Management. The curriculum strikes a balance between theory and practice and is designed to provide students with the necessary skills to succeed in a global and complex environment. A sequence of well-designed electives will introduce students to a wide variety of specialisations such as artificial intelligence, cybersecurity, renewable energy systems, mechatronics, environmental engineering, and transportation systems.
AUD programs are delivered by experienced faculty with strong records of accomplishment and solid international exposure. State of the art labs and excellent facilities are in place to ensure an effective teaching and learning experience. At AUD, students will have the opportunity to join prestigious professional societies, engage in study abroad programs and learn through practical field experience.
With local and international accreditations in place, and through a broad education grounded in cultural diversity and technical excellence, AUD graduates continue to be highly sought after at both the regional and global levels. As a result, a good number of graduates join the world's top graduate schools while others are placed at well-known multinational companies and engineering firms.
Red Hat Academy turns academic institutions into centers for enterprise-ready talent by outfitting them with Red Hat training. For more than a decade, Red Hat Academy has supplied high schools and institutions of higher education worldwide, that have the required technology and support environments, with hands-on instruction, curriculum, labs, performance-based testing, and instructor support. Red Hat Academy's web-based curriculum helps create competencies through hands-on, performance-based learning and testing.
Supporting Quotes
"On behalf of The American University in Dubai, I am so pleased that the School of Engineering is collaborating with Red Hat to improve the educational opportunities available to our students. The collaborative relationship is a demonstration of our innovative and always proactive approach to expanding our curriculum and providing selective opportunities for our students. Under the leadership of Dean Bazzi, this cooperative venture supports why AUD graduates continually receive #1 employability ranking among employers." Dr. David Schmidt, President
"We are please the American University in Dubai is joining the Red Hat Academy. Advanced technologies and digital transformation are evolving and accelerating exponentially. This acceleration to digital has resulted in a shortage of qualified personnel within the region to execute on the customer and consumer demands. We expect the skills gap to only grow greater in the years ahead if we are not able to partner with organisations such as the American University as they share the vision for skills in open source for the Middle East." Lee Miles, Vice President, CEMEA, Red Hat
Additional Resources