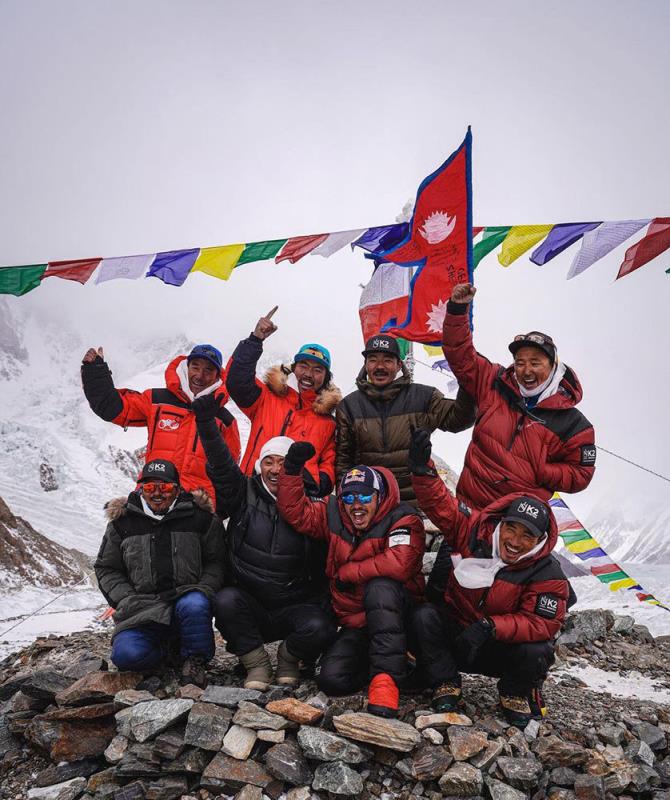 When a team of elite Nepali climbers conquered K2 they sent a surge of hope across the Himalaya. They achieved what generations of mountaineers had considered "impossible"—a winter summit of the worlds second-tallest, and most dangerous, mountain.
The climbers' crowning of the 28,251-foot peak on Saturday "represents the chance to make a statement of national pride and home-grown Himalayan mountaineering prowess. "History made for mankind, History made for Nepal!" wrote Nirmal "Nims" Purja, one of the team's illustrious climbers. (Pictured, above, the team celebrating after reaching the summit.)
This epic achievement represents a kind of collective hero's journey—one of the classic archetypes that underlies many Nat Geo stories. Famously, Paul Salopek is walking around the world, retracing the steps taken by the first humans who migrated out of Africa during the Stone Age and settled across the planet. (We'll have more on Paul below).
But not all heroic journeys are as celebrated. In our story about how the pandemic is decimating the tourism industry around Machu Picchu, we meet Juan Yupanqui, who plied the Inca Trail for nearly two decades as a porter before saving enough money to open a guesthouse near Cusco. His economic ascent, along with that of some 92 percent of people employed in Peru's tourism industry, has been halted. "I get more concerned each day, because we don't know when this is going to end," says Yupanqui.
Adversity is the crucible of a hero's journey—and it presents an opportunity for transformation. In his story about how a loss of tourism threatens the biodiversity of Costa Rica's lush Osa Peninsula, writer Jamie Shreeve meets a remarkable woman named Celedonia Tellez, who is working with a conservation organization to reforest her 22-acre farm—land she cleared by hand some 40 years ago when she arrived "with her five children, six chickens, a dog, and 700 colones, about one dollar."
"The COVID-19 pandemic has devastated the Costa Rican economy, shutting off the spigot of tourist dollars that has underwritten the shift toward environmentally sustainable livelihoods. The hearts and minds of Osa people are turning toward a conservation ethic. But they still have stomachs," writes Shreeve.
Here's to the heroes who work for positive change in the world, from the highest peaks to the ocean's depths. It's hard and often thankless work, but it secures hope for the future—for everyone.