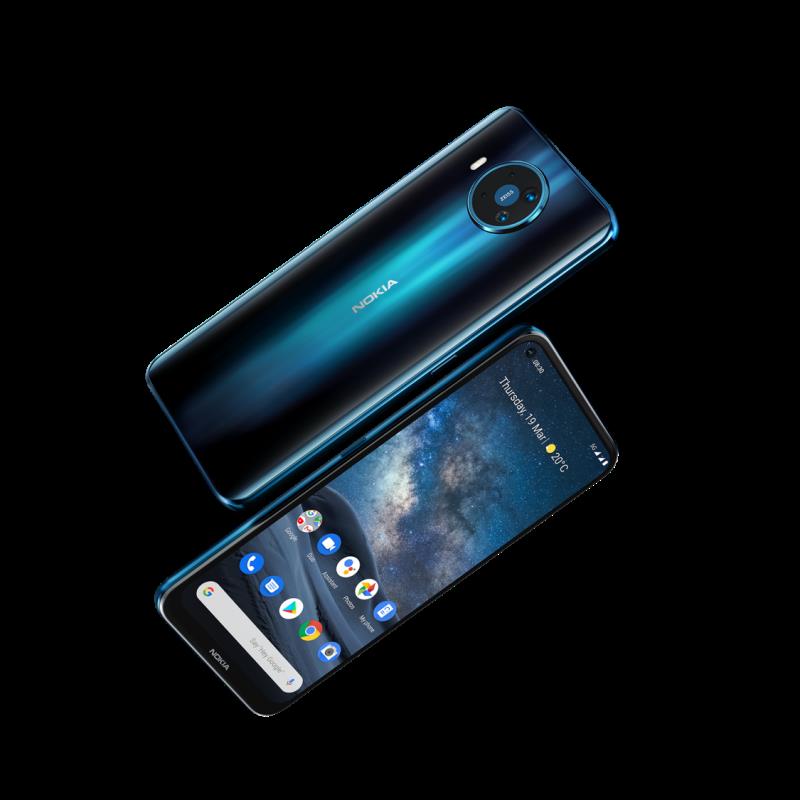 The future-proofed Nokia 8.3 5G becomes the first Nokia smartphone to upgrade to Android 11. Rollout for the upgrade commences in select markets.
HMD Global, the home of Nokia phones, is one of the few manufacturers to promise updates across a variety of price segments for up to three years.
Counterpoint Research revealed that Nokia phones lead the trust rankings based on the four pillars of software, security updates, build quality, and devices recommended for enterprises for the second year running[i]. The Nokia 8.3 5G launched with the promise of three years' worth of security updates and two years of OS upgrades. The promise ensures that Nokia smartphones stay safe, secure and up to date for consumers. The upgrade to Android 11 marks the first OS upgrade of the handset and substantiates HMD Global's commitment to its Android promise.
Juho Sarvikas, Chief Product Officer and Vice President of North America, HMD Global:
"Counterpoint Research has recognised us for providing the fastest deployments for the past two consecutive Android OS upgrades regardless of price on a portfolio level[ii], and we will continue our commitment for even our most affordable Android 11-ready handsets. The Nokia 8.3 5G has opened the flood gates for our Android 11 upgrade journey with many more of our smartphones soon to join the ranks.
"Bringing the latest operating system to a smartphone portfolio is by no means an easy feat; it is an intricate process involving a multitude of partners and a variety of tests[iii]. I'm thrilled by our team's dedication in bringing the next step in Android OS innovation to our Nokia smartphone customers. We want to ensure that Nokia phone users have high-quality and safe smartphone experiences, which are intrinsic to our company's ethos."
Nokia smartphones are proven to provide the most comprehensive software and security updates. They are trusted, secure and built to last and offer smartphone experiences without bloatware slowing them down or taking up space. Counterpoint Research found 98% of Android smartphones still offer inconsistent software and security updates or none at all[iv], highlighting the value of the Nokia smartphone commitment.
With Android 11 comes a range of updated and new features for Nokia smartphones including:
· Manage your conversations: Stay in touch with those who matter by managing conversations across multiple messaging apps all in one place on your Nokia smartphone.
· "Hey Google, show me my day": Using the dedicated Google Assistant button[v] or just your voice, get a full snapshot of your day. When you need to focus or unwind, using the Digital Wellbeing tools like Focus mode and Bedtime mode will be there to help.
· Permissions auto-reset: Supporting our commitment to delivering secure and reliable mobile experiences, Nokia smartphones on Android 11 will reset the permissions of apps that haven't been used in a while. This will keep your personal data more secure by only allowing recent apps access to personal information.
Coming with a powerful PureView quad-camera with ZEISS optics, the Nokia 8.3 5G lets you capture it all and boasts ZEISS Cinema capture and editor. With extraordinary low-light video recording and OZO audio recording, the Nokia 8.3 5G is the ideal smartphone for creators with busy schedules. The Nokia 8.3 5G was the first 5G smartphone to come with the highest number of 5G New Radio bands[vi], ready for both standalone and non-standalone 5G network deployment combinations that operators around the globe are rolling out. This ensures more people can enjoy the fast, reliable connectivity of 5G for streaming and gaming wherever they are. Inspired by Finnish roots, the Nokia 8.3 5G comes in Polar Night – taking inspiration straight from the arctic sky.

[i] 5G coverage is limited and might not be supported by your network service provider. Actual speed depends on network and other factors.
iiNokia Phones Lead the Trust Rankings - Comprising various weighted criteria, the trust ranking pillars comparatively analysed the leading Android smartphone brands.
[ii] Nokia Phones Lead the Trust Rankings - Comprising various weighted criteria, the trust ranking pillars comparatively analysed the leading Android smartphone brands.
iiiWhat it takes to upgrade from Android 8 Oreo to Android 9 Pie, HMD Global: https://www.hmdglobal.com/images/download/android/recipe-for-pie.pdf
ivNokia Phones Lead the Trust Rankings - Comprising various weighted criteria, the trust ranking pillars comparatively analysed the leading Android smartphone brands.
vThe Google Assistant is not available in certain languages and countries. Where not available the Google Assistant is replaced by Google Search. Check availability at https://support.google.com/assistant
[vi] [vi]The Nokia 8.3 5G supports 5G NR sub-6 bands deployed in multiple regions. Note: speed and availability of 5G service varies across countries and carriers. Check with your carrier for availability and details about their 5G offerings.