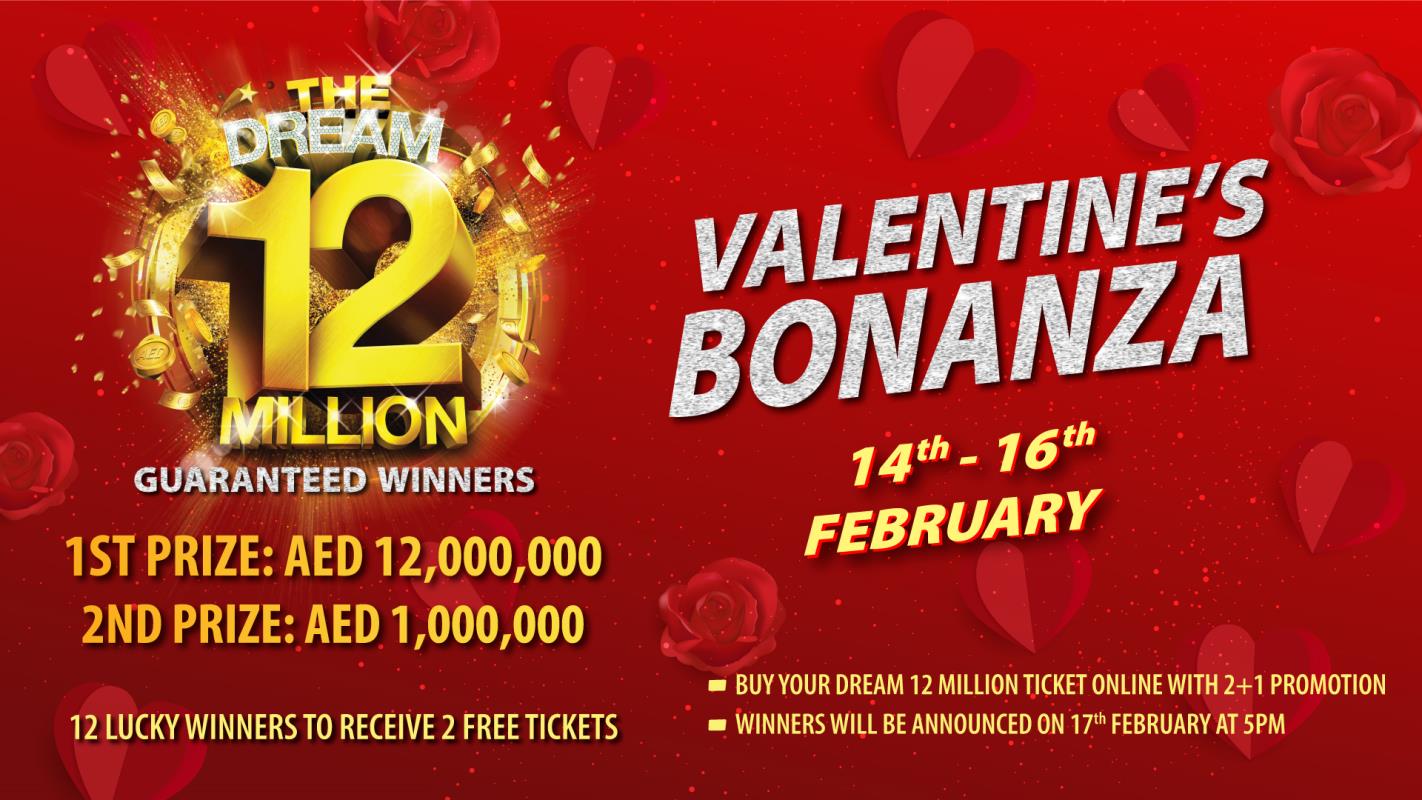 As the month of love progresses, Big Ticket never seizes to amaze and create more opportunities for their loyal customers to turn their dreams into reality, Valentine's Bonanza is here with a bang!!!!!
Big Ticket has just launched a Valentine's Bonanza for the first time ever in Big ticket history , Big Ticket is coming to you with a great valentine offer what a better way to celebrate this love week than giving your loved ones chances to be the next Big Ticket millionaire.
Valentine's Bonanza will be launched from February 14 to 16 February(11:59pm). Make it a date to purchase the Big Ticket on Buy 2 get 1 Free offer during this valentine's Bonanza period and be amongst the 12 lucky winners who stands a chance to win a pair of Big Tickets for our Dream 12 million remember Big Ticket will not be making only one millionaire this month but 2 millionaires with 4 extra cash prizes plus a dream car .
The Dream 12 Million promotion has TWO GUARANTEED MILLIONAIRES, one winner will take away the whopping grand prize of AED12 million, followed by a 2nd prize of AED1 million, plus four extra cash prizes and a Dream Car promotion prize. We have increased the chances for you to be one of the millionaire's team by bringing the Valentine's Bonanza this week. There is no better way to celebrate the love month than with the winning Big Ticket millionaires' team.
"The Dream 12 Million " Big Ticket Valentine's Bonanza Promotion will run from:
Sunday February 14 – Tuesday February 16 (11.59pm).
i. Promotion will officially open at 00:00am on February 14, 2021
ii. Promotion will officially close at 11.59pm on February 16, 2021
All players of Big Ticket who purchase the offer of 2+1 during the promo period automatically qualify for the electronic draw and stands a chance to win 2 more free ticket for the Dream 12 Million to be held on the 3rd of March.
Twelve winners will be drawn on the February 17, 2021 they will be automatically selected via an electronic raffle draw. Winner to be announced by Big Ticket on social media and website at 5pm
Each of the 12 x winners will receive 2 extra Big Tickets.
Winners will be contacted via the phone number they provided when they made the purchase of their qualifying tickets
Big Ticket will continue to reach customers to verify information for the ticket until 11 PM only on the draw day (February 27th).
Unreachable winners will automatically have their prize tickets forfeited.
Prize tickets are generated via the raffle system and will be dropped to the drum in the same manner as the rest of the tickets bought from the website.
Copies of the prize tickets will be sent to all winners via email.
Big Ticket management reserves the right to terminate or cancel the validity of the prize tickets when deemed necessary.

About Big Ticket:
Big Ticket started realising Big Dreams in 1992 when it was first established at the Abu Dhabi International Airport. Today, Big Ticket is the largest and longest-running raffle draw for cash prizes and dream luxury cars.
What started out with a million Dirhams cash prize gradually grew and now, on Big Ticket's 29th year, we have already given away millions of cash prizes in both Dirhams and luxury cars.
We have the biggest prize yet at 20 Million Dirhams, 15 Million Dirhams, 12 Million Dirhams and 10 Million Dirhams. We also give away Dream car Jeep.
As Big Ticket continues to aim to bring you closer to your Big Dreams, we are constantly working to make each monthly draw BIGGER and BETTER!
With every Big Ticket, we make you one step closer to your Big Dreams.
The ticket price for the Big-Ticket Millionaire is AED 500 inclusive of VAT, and if you buy two tickets, we'll give you a third ticket absolutely free,
In addition to the Big-Ticket Millionaire prize draws, there are a range of Dream Car Promotions in which customers can purchase tickets for the chance to win amazing car Jeep at from a purchase of AED 150.
You can follow Big Ticket on :
Twitter: https://www.twitterewr.com/bigticketauh/
Facebook: https://www.facebook.com/BigTicketAbuDhabi
Instagram: https://www.instagram.com/bigticketauh/
Website: www.bigticket.ae