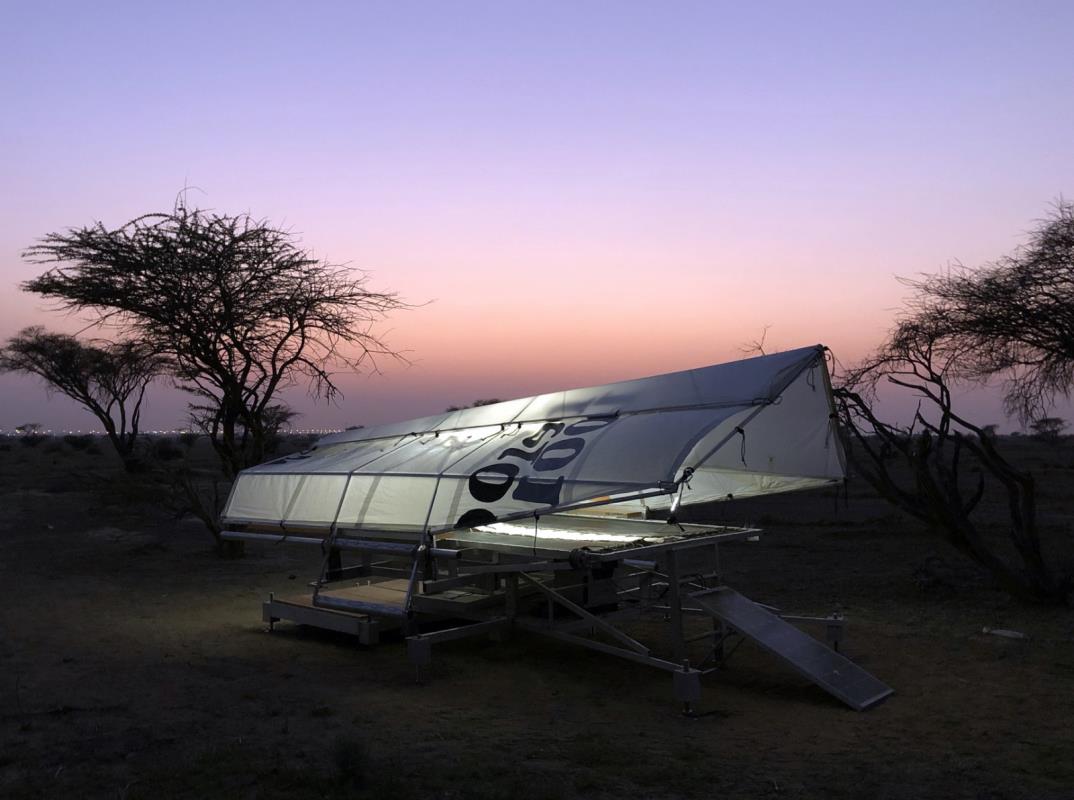 Faculty and students from the College of Architecture, Art and Design (CAAD) at American University of Sharjah (AUS) have been recognized by the Association of Collegiate Schools of Architecture (ACSA) for their prototypes for off-the-grid desert shelters to support environmental scientists working in the harsh conditions of the Arabian desert.
The Neonomads projects received an ACSA award for Design-Build. ACSA awards are considered the most prestigious annual awards in architectural education among programs accredited by the US-based National Architecture Accreditation Board (NAAB).
The Bachelor of Architecture program offered by AUS is the first program outside of North America to receive NAAB accreditation. As NAAB is the only organization authorized to accredit professional degree programs in architecture in the United States, this accreditation offers graduates of the program the opportunity to practice architecture and pursue graduate studies abroad in the USA.
Introduced in 2017, Neonomads is an ongoing series of projects delivered as part the college's widely acclaimed design-build initiative, which introduces and integrates tactile, full-scale learning opportunities to students of architecture and interior design. Led by CAAD Associate Professor Patrick Rhodes and Assistant Professor Gregory Spaw, students and faculty collaborated with Sharjah's Environment and Protected Areas Authority (EPAA) to design and build prototypical desert survival shelters deployed into the Arabian desert as research stations for environmental scientists. The temporary shelters were installed in the environmentally sensitive and protected wildlife site Elebriddi.
The result of the project was a fundamental shelter with access to off-the-grid technologies, allowing scientists to carry in less gear to support longer-term site visits. The students practiced strategies based on weight, deployability and durability, using component-based assemblies constructed as temporary structures with a mindset of permanence. They utilized reuse, repurposing and recycling when possible, and employed innovative materials, systems and technology resistant to the unique climatic conditions of the environment.
Former architecture student Lamya Alqassimi, who worked over several semesters on the endeavor and worked on the fourth prototype of the Neonomads project as Visiting Artist in Residence in 2019, said the design-build program offers a hands-on learning experience for students who look for an alternative approach to design aside from a standard design studio.
"Neonomads provided me with the opportunity to work with clients on an off-campus project. Working on three out of four prototypes in this project gave me insight into learning how to work on procuring materials, contacting suppliers and fabricators, working with time and budget constraints, and coordinating with different departments," she said.
"The skills gained by the end of the project become very beneficial in the work environment, whether technical skills gained through fabrication or personal skills gained through collaborative work," said Alqassimi.
Associate Professor Patrick Rhodes noted that beyond the benefits to students, projects such as Neonomads also offer CAAD faculty the opportunity to develop their own research projects and agendas and test them on sites through prototyping.
"This applied research and body of work is initiated by faculty, and it informs and expands our teaching methods and pedagogy as it is applied to design studios and other specialized courses of our curriculum," said Rhodes.