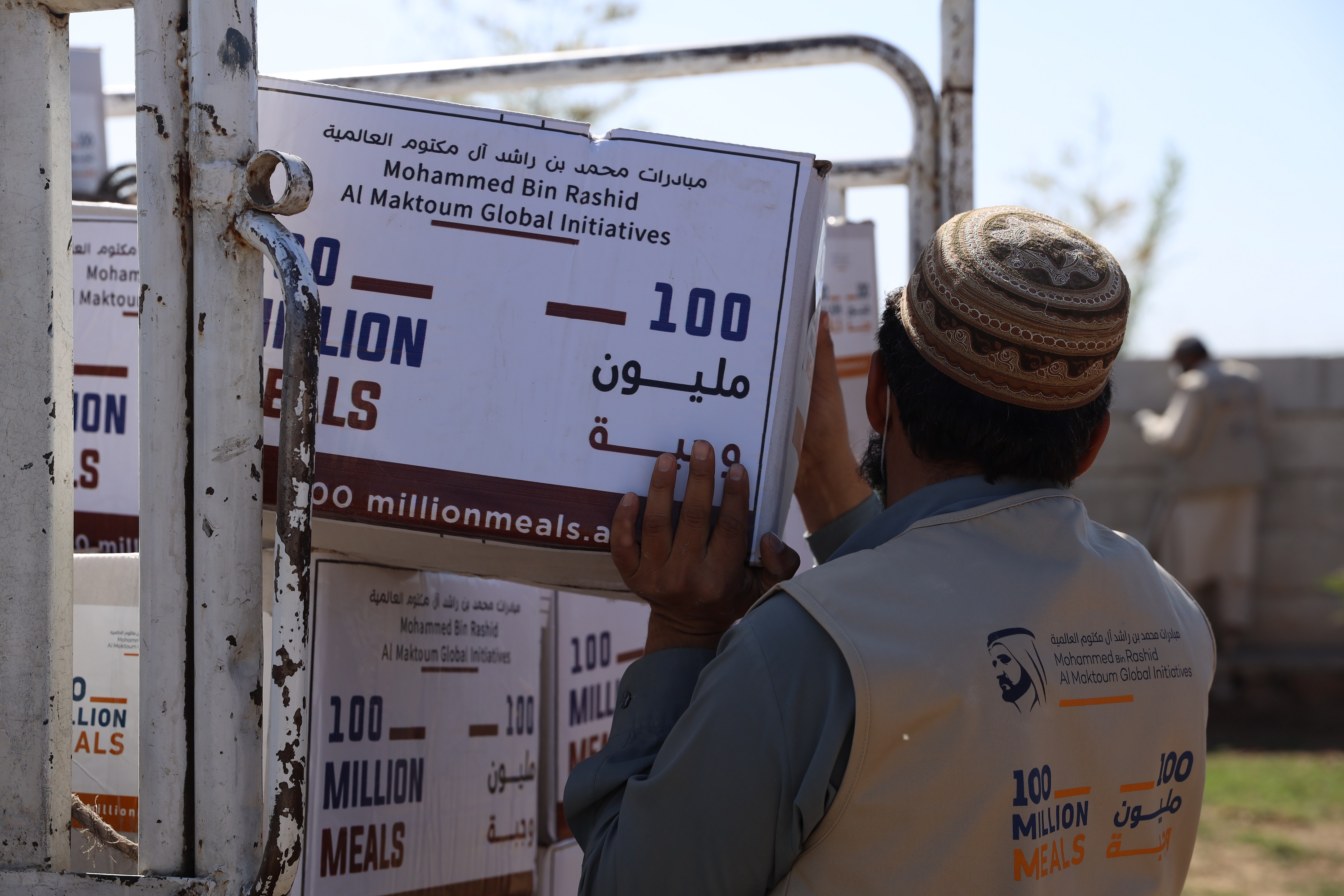 His Highness Sheikh Mohammed bin Rashid Al Maktoum, Vice President and Prime Minister of the UAE and Ruler of Dubai, announced that the UAE's Ramadan campaign has secured 216 million meals, more than double its target, for vulnerable groups in 30 countries across four continents.
'100 Million Meals' campaign, the region's biggest food distribution drive, concluded on Saturday after drawing massive donations from 385,000 individuals, companies, businessmen and philanthropists across 51 countries through various donation channels and two charity auctions.
Funds raised will help distribute food parcels, equivalent to 216 million meals, to people in need across the Middle East, Africa, Asia, Europe and South America.
Low-income families, orphans, widows and parents of refugee children in several countries have already started preparing their own nutritious meals during the holy month of Ramadan as distribution of food parcels began in cooperation with local and international partners.
Distribution of food parcels, carrying essential easy-to-store food items, will continue over the next three months to reach beneficiaries in the 30 targeted countries. Every AED1 donated helped provide one meal in beneficiary countries.
His Highness Sheikh Mohammed bin Rashid Al Maktoum said the overwhelming community engagement and record turnout of individuals and companies who donated to the campaign confirms, once again, that the UAE will always remain a global capital of philanthropy.
"The record donations and support to '100 Million Meals' campaign is a testament that strategic and sustainable humanitarian work has become an established culture in the UAE."
He added, "the objectives of '100 Million Meals' were ambitious to match the magnitude of hardship that COVID-19 has brought to vulnerable populations across the world."
Sheikh Mohammed bin Rashid Al Maktoum concluded, "the campaign's biggest success is proving that humanitarian work in the UAE has no limit."
The campaign's organizer Mohammed bin Rashid Al Maktoum Global Initiatives (MBRGI) is teaming up with 12 food banks and nine humanitarian and charitable organizations to deliver food aid to the doorstep of underserved homes in targeted countries.
Full solidarity
The campaign, which ran for 28 days, brought together all segments of the society from the art community and car enthusiasts to prominent businessmen, government and private entities, and members of the public from inside and outside the UAE.