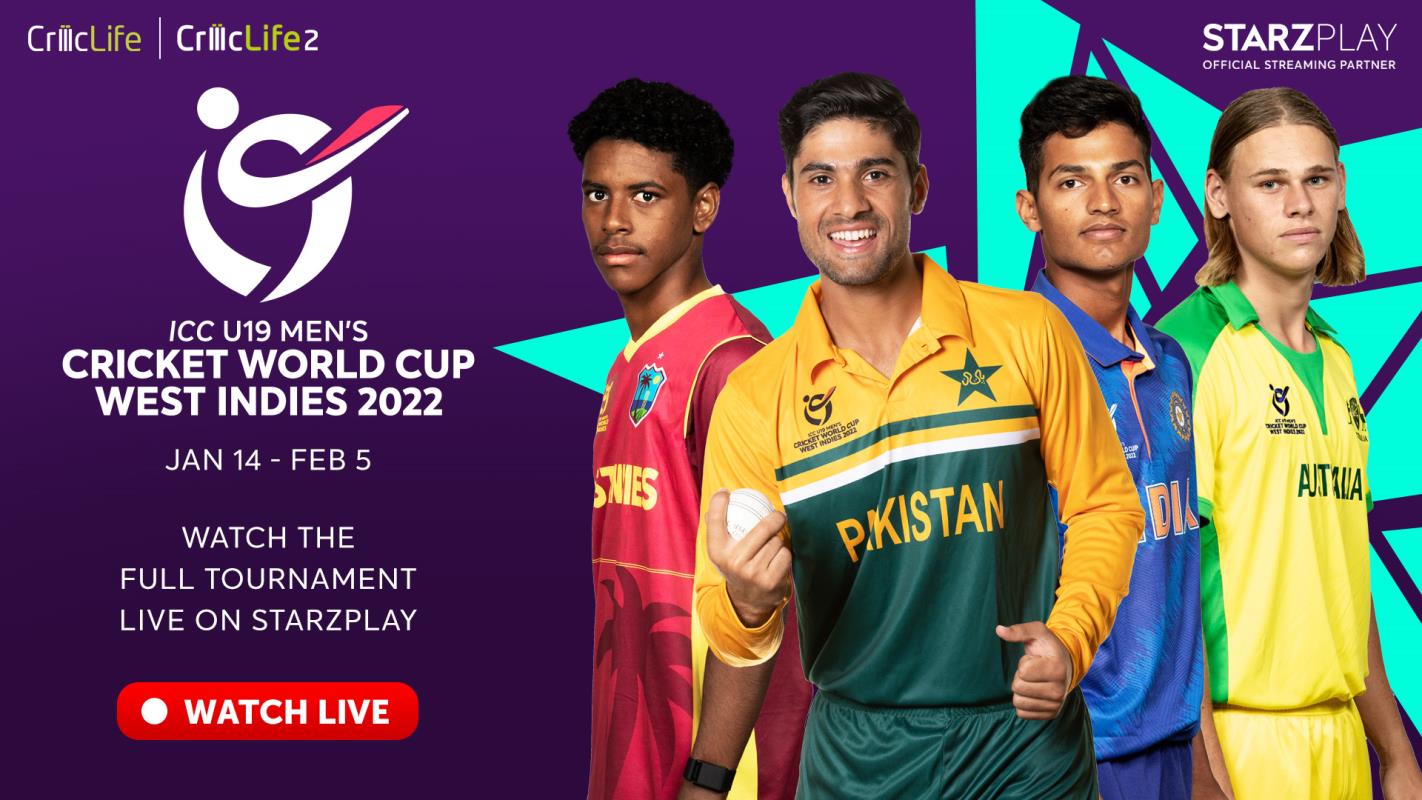 For all things cricket, tune into STARZPLAY! MENA region's fastest growing subscription video-on demand service has bagged the rights for yet another exciting sporting event - the ICC U19 Men's Cricket World Cup 2022.
Continuing its long-standing partnership with Etisalat, STARZPLAY will be streaming the under 19 World Cup along with Etisalat and will provide cricket fans access to all the live action taking place from January 14 until February 5, 2022.
The 14th edition of U-19 World Cup is being held for the very first in the West Indies, with 48 ODI matches planned in total between the 16 participating teams. The group stage will take place from January 14 to 22, with the plate stage beginning from January 25 and the final face-off will be held on February 5 at the iconic Sir Vivian Richards Stadium in Antigua.
Cricket lovers in the MENA region can watch all the excitement from the comfort and safety of their homes via STARZPLAY's CricLife and CricLife 2 channels. Fans can subscribe to the PowerPlay package, available for AED24.99/US$6.99 on STARZPLAY to watch the under 19 world cup series as well as enjoy a breadth of Indian entertainment with the 6 Star TV channels available with this package.
Cricket is already a permanent feature on STARZPLAY. Through the platform's deal with Etisalat, STARZPLAY streams CricLife and CricLife2 channels which have the rights for home matches of various cricket playing nations including India, Pakistan, South Africa, New Zealand, West Indies as well as the exciting T20 leagues like Pakistan Super League and Caribbean Premier League.
ICC U19 Men's Cricket World Cup 2022 match schedule:
Group stage fixtures:
14 January: West Indies vs Australia (17:00 GST)
14 January: Sri Lanka vs Scotland (17:00 GST)
15 January: Canada vs UAE (17:00 GST)
15 January: Ireland vs Uganda (17:00 GST)
15 January: Pakistan vs Papua New Guinea (17:00 GST)
16 January: Bangladesh vs England (17:00 GST)
16 January: Afghanistan vs Zimbabwe (17:00 GST)
17 January: West Indies vs Scotland (17:00 GST)
17 January: Australia vs Sri Lanka (17:00 GST)
18 January: England vs Canada (17:00 GST)
18 January: South Africa vs Uganda (17:00 GST)
18 January: Afghanistan vs Papua New Guinea (17:00 GST)
19 January: Australia vs Scotland (17:00 GST)
20 January: England vs UAE (17:00 GST)
20 January: Bangladesh vs Canada (17:00 GST)
20 January: Pakistan vs Afghanistan (17:00 GST)
20 January: Zimbabwe vs Papua New Guinea Under (17:00 GST)
21 January: West Indies vs Sri Lanka (17:00 GST)
21 January: South Africa vs Ireland (17:00 GST)
22 January: Bangladesh vs UAE (17:00 GST)
22 January: Pakistan vs Zimbabwe (17:00 GST)
Plate and Super League fixtures:
25 January: Pre-quarter finals 1 – A3 vs B4 (17:00 GST)
25 January: Pre-quarter finals 2 – B3 vs A4 (17:00 GST)
26 January: Pre-quarter finals 3 – C3 vs D4 (17:00 GST)
26 January: Pre-quarter finals 4 – D3 vs C4 (17:00 GST)
27 January: Super League quarter-final 2 – D1 vs C2 (17:00 GST)
28 January: Super League quarter-final 3 – C1 vs D2 (17:00 GST)
28 January: Plate Semi-final 1 (17:00 GST)
28 January: PPOSF1 (17:00 GST)
29 January: Plate Semi-final 2 (17:00 GST)
29 January: PPOSF2 (17:00 GST)
29 January: Super League Quarter-final 2 (17:00 GST)
30 January: Loser of SLQF2 vs Loser of SLQF3 (17:00 GST)
30 January: 15th/16th place-playoff (17:00 GST)
30 January: 13th/14th place-playoff (17:00 GST)
31 January: Loser of SLQF1 vs Loser of SLQF4 (17:00 GST)
31 January: 11/12th place-playoff (17:00 GST)
31 January: Final, Plate – Queens Park Oval (17:00 GST)
1 February: Super League Semi-Final (17:00 GST)
2 February: Super League Semi (17:00 GST)
5 February: Final (17:00 GST)