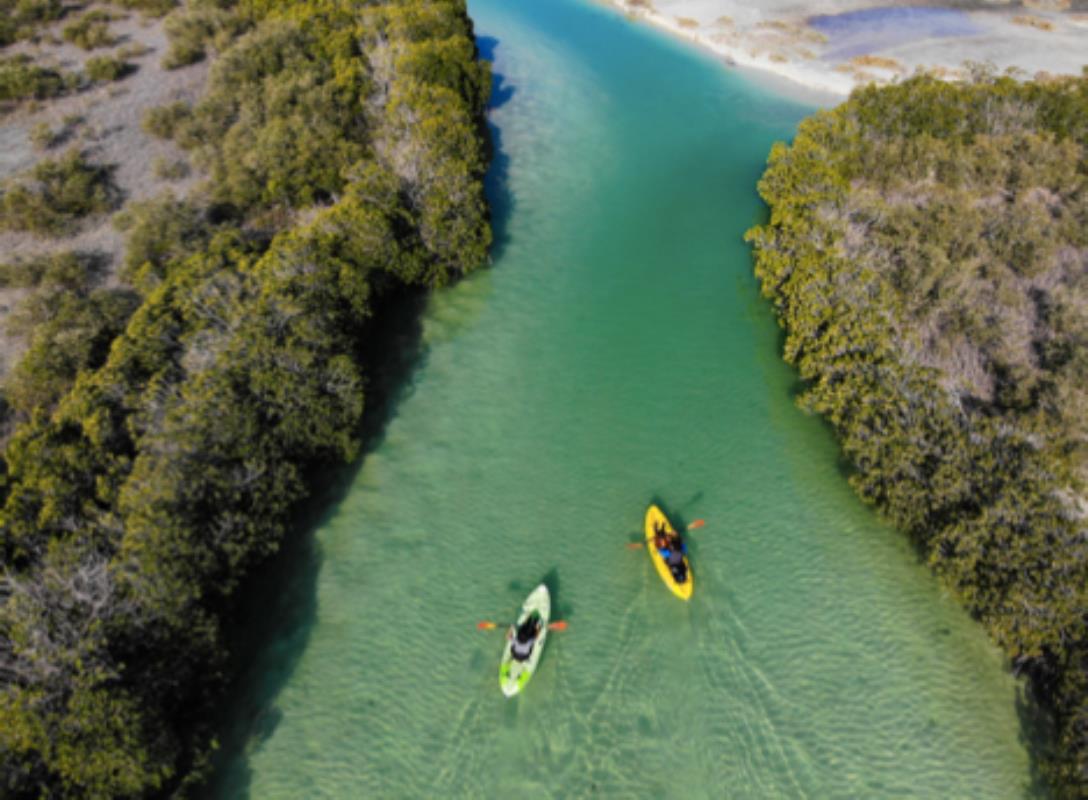 Sustainability and regeneration are at the heart & soul of the Red Sea Global ethos, and in a reflection of that culture, The Red Sea Destination is set to be a sanctuary for the discerning traveller, offering myriads of indulgent interactive activities to enjoy whilst keeping a sustainable approach in place. The destination offers visitors the opportunity to admire the area's natural beauty while promoting the preservation and regeneration of the local environment by striving to be world's largest tourism destination powered 100% by renewable energy, with no connection to the national grid, sourcing all energy from solar and wind.
Offering a uniquely diverse range of experiences, from island getaways to resort holidays, mountain retreats and desert discoveries to wild adventures, visitors can take a deep dive into the magic of The Red Sea. Set to launch in early 2023 with the opening of three luxury resorts (St. Regis, Ritz Carlton Reserve & Six Senses), the year-round destination boasts a unique and thriving environment embracing beaches, canyons, mountains, and mangroves. Offering opportunities to experience vibrant lifestyles, culinary expertise, artistry and meticulous craftmanship.
Informed by the surrounding land and seascapes, the destinations take cues from nature to deliver an unforgettable day of adventure for all the family, from conservation tours amongst our island archipelago to dinner in the wind brushed mountains of Jabal Raal. There is a wide range of luxurious outdoor activities that are balanced between adventure and tranquility; we will offer the opportunity for customized guest itineraries which showcase our different natural and cultural worlds in all their brilliance
Dive into World's fourth-largest barrier coral reef
With more than 314 coral and fish species, an untouched and unspoiled world of hidden natural treasures flourishing with life and colour that can be explored and experiences through marine life diving - sunrise dive, night dives, reef dives, and heritage dives all with extremely strict regulation adhering to the destination's sustainability and conservation rules. Open to divers of all levels to explore a range of exceptional sites around the lagoon, including an almost 300-year-old wooden shipwreck and the Waqadi channel home to Manta Ray, Reef Sharks and beautiful shoals of fish passing by like flickers of bright neon light.
The allure of diving in The Red Sea is irresistible, as one of the final frontiers of protected coral reefs offering plethora of diving experiences carefully designed to allow guests a closer than ever look at both the wildlife and the measures being taken to protect it.
Unrivaled Water Adventures
We give our guests the opportunity to experience our natural water worlds up close, in order to truly understand our passion to protect everything around us. It may be a guided conservation morning in a crystal kayak paddling through our stunning mangrove rivers, crafted by time and home to a wide variety of birds and marine life. Or a guided snorkeling session for you and your family, taking you on a journey of discovery around the most vibrant coral pinnacles, spot nesting Hawksbill Turtles and tracking a hunting Osprey that finds its prey by perch on protruding reefs. The Red Sea is a luxurious playground for all who seek adventure.
A range of natural power sport excursions are also available for guests to explore deeper into our stunning archipelago, escaping for the day on a private adventure, sailing among secluded islands as your own captain, with a crew, or part of a fleet of small sailboats conquering the north westerly wind; take up a paddle in a sea kayaking, stand up paddle-board, windsurfer, or foiling vessel, or turn up the power on an electric surfboard. Everything is easily accessible with our team of instructors and experts available at all times to light up a spirit of adventure.
Equally, visitors can just soak up the sun on a generous choice of sandy beaches, replete with the finest facilities provided by world-leading hotel brands