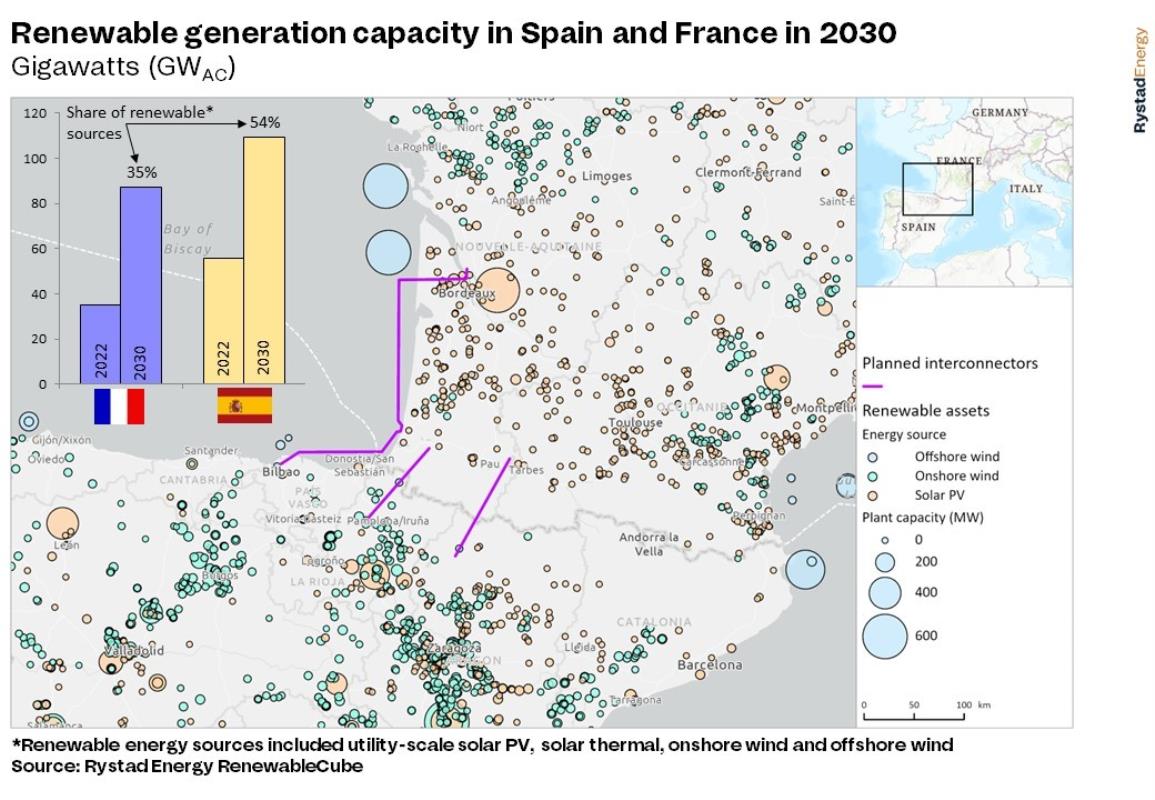 Europe's energy transition ambitions face several challenges, but a major impediment to bringing new renewable power online is insufficient grid capacity. Rystad Energy's current base case forecast has Europe adding as much as 530 gigawatts (GW) of solar PV and onshore and offshore wind between 2022 and 2030, more than 66 GW per year on average. Furthermore, the share of solar and wind combined as a share of total installed capacity surpassed 10% in 2010 and more than tripled in 2021, reaching 34%, according to Rystad Energy research.
Growth is not expected to slow down anytime soon, as European countries are planning huge additions of renewables over the next few years. If Europe is to remain a leader in the energy transition, a huge amount of grid capacity will need to be developed, both to integrate new generation capacity into respective countries' power mixes and to better connect European countries so that electricity can flow in the most optimal way.
The staggering amount of new solar and wind capacity expected to come online in Europe in the coming years means that grid interconnectivity will be the bottleneck to both the more efficient use of energy sources as well as overall slower decarbonization of the power sector as more fossil fuels need to be used to compensate. Historically, this has been much less of an issue as Europe's power system has been dominated by four large sources – coal, gas, nuclear and hydropower – all with varying degrees of dispatchability but none considered intermittent.
With the pace of renewable energy development substantially exceeding the speed of grid upgrades and expansion projects in parts of Europe, policymakers and the power sector will need to carefully examine if a country's development plans for new generation capacity match its development plans for both internal and cross-border transmission capacity. The timelines for new projects are very long and some countries in Europe are already curtailing renewable power that could be used elsewhere – for instance, Germany curtailed about 10.2 terawatt-hours (TWh) of wind power in 2017, the highest of any European country to date. The yearly average is around 5% of variable renewable energy curtailed, highlighting how bottlenecks are already an issue.
"Europe's increasingly connected power grid is one of the first globally to take on substantial amounts of renewable and intermittent power. Moving power around the continent to minimize the use of carbon-emitting fuels will only be possible if the grid is upgraded. This will not be simple, quick, or cheap, but it will reduce greenhouse gas emissions and increase energy security. The race is now on to see if grid upgrades can match the staggering levels of new renewables set to come online in the next decade," says Fabian Rønningen, senior analyst, power markets at Rystad Energy.
Spain has emerged as one of the European leaders when it comes to both solar and wind development, and currently has one of the largest renewables pipelines in Europe. Spain has the most economic solar potential of the large European countries due to its sizeable landmass and high yearly solar irradiation, while it has also been a pioneer in the European wind industry. Furthermore, due to its relatively weak coupling to the rest of continental Europe, Spain provides an excellent example of how internal European grid bottlenecks could hamper Europe's energy transition.
Although grid development within Spain is expected to grow rapidly over the coming decade, only three high-voltage interconnectors to France are currently planned, two of which are not expected to come online before 2027. This is just one example of potential bottlenecks Europe could face over the next decade, as hundreds of GW of solar and wind power come online, while the development of supporting grid infrastructure lags, especially cross-border interconnections. Policymakers need to ascertain whether grid development plans are in line with ambitious renewable energy targets to ensure transmission capacity does not constrain the energy transition.
Installed capacity from renewable energy sources in Spain will more than double by 2030 in Rystad Energy's current base case forecast. While installed capacity from non-renewable energy sources will drop from 54 GW in 2022 to 34 GW by 2030, capacity from renewable energy sources will grow from 64 GW to 151 GW. Solar will drive most of the growth in renewables, primarily driven by developments in central Spain. Expansion plans for transformer capacity are set to keep up with these ambitious growth targets in installed capacity. Spain's transmission system operator (TSO), Red Electrica, has mapped out detailed plans for upgrades and expansions to its transmission network. Towards the end of this decade, these plans could see transformer capacity grow by more than 220% compared to 2022 levels. Although these upgrades to the network are planned across Spain, most capacity looks set to be added in southern and central Spain, particularly in communities such as Andalucia and Castilla y Leon (Figure 4). These are also the regions where most of the planned solar and wind capacity will come online in the next few years.