Dubai, UAE; Monday 6 March 2023: Dubai Public Art, a multi-year, Dubai Culture & Arts Authority-led strategy that will develop and deliver major public art commissions across the city, announced a shortlist of talented artists for its first-ever commission in partnership with Art Dubai. The inaugural landmark commission will bring contemporary public art to Al Hudaiba area, overlooking Etihad Museum and Union House in Dubai. It is aimed to elevate the city's profile as a global cultural capital, inspiring and captivating viewers from around the globe.
Announced at the 16th edition of Art Dubai, the shortlisted artists were chosen from over 250 applications and include Afra Al Dhaheri, Asma Belhamar, Khalid Al Banna, Mohamed Ahmed Ibrahim, and Shaikha Al Mazrou. Each artist will receive USD 5,000 to cover the costs of preparing a detailed technical proposal and maquette – leading up to the winner announcement in Spring and the unveiling of the finished work at the end of 2023.
Dr. Saeed Mubarak Kharbash Al Marri, CEO of Arts & Literature at Dubai Culture & Arts Authority, said: "Dubai is taking major steps to build a vibrant creative and cultural landscape reflecting the city's identity as a representation of global creativity and innovation. Through Dubai Public Art, the emirate will empower talent, showcase local artists' works throughout key cultural destinations, and strengthen partnerships with cultural institutions and the private sector to fully support its creative economy. This initiative aims to make Dubai more than just a unique model for cities — but an international symbol that promotes engagement between culture and businesses alike."
In line with the appointment of Art Dubai as the first commissioning entity for Dubai Public Art, the fair dedicated the 10th edition of its flagship education and professional development programme, Campus Art Dubai (CAD), to public art. The annual initiative offered a special curriculum that provided UAE-based talent with a platform to develop their artistic skills. CAD Public Art sought to help build sector expertise and strengthen understanding of this developing concept that is quickly transforming communities throughout the city.
Benedetta Ghione, Executive Director of Art Dubai, said: "We are very pleased to be leading this important initiative for Dubai Culture and look forward to the unveiling the first major public commission for Dubai. Over the last 10 years, Campus Art Dubai has been at the forefront of providing educational opportunities for local cultural practitioners; and through this year's programme, we are assured that there is a solid foundation of UAE-based artists to participate in future public art commissioning."
Dubai Public Art Talks Launch

Coinciding with the announcement of the shortlisted artists is the introduction of Dubai Public Art Talks. To further its mission in promoting public art, a series of discussions were created to offer audiences an in-depth exploration of cultural and creative topics surrounding art in public spaces. Delivered by cultural partners and commissioners, the first of the series was officially launched during the 16th edition of Art Dubai and will be carried forward by other commissioners.
Held yesterday, 5 March, the Dubai Public Art Talks highlighted important conversations about the impact of public artwork on urban culture. One of the specially curated talks on "Presenting Dubai Public Art" explored ways in which it can contribute to a city's identity while introducing shortlisted artists for the inaugural commission. Another talk titled "Re-Defining Public Art: Navigating the Commissioning Landscape" looked at cutting-edge advancements related to commissions and how they affect the industry as a whole.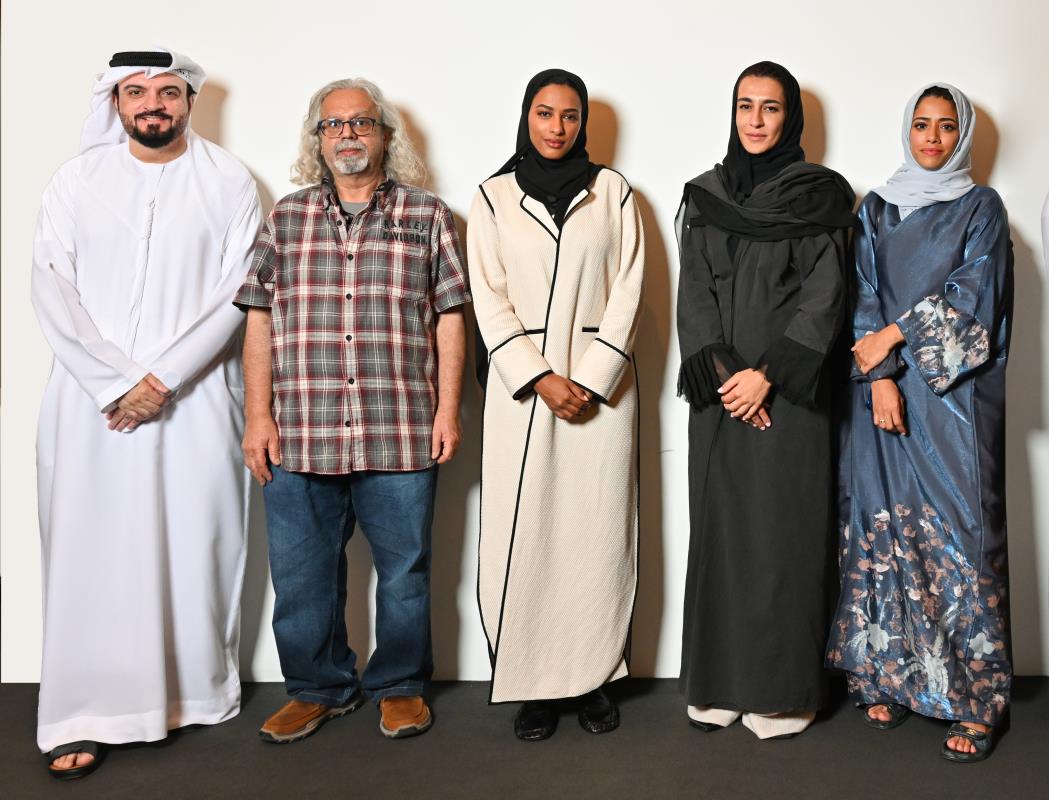 Shortlisted artists for Dubai Public Art's inaugural landmark commission with Art Dubai (left to right): Khalid Al Banna, Mohamed Ahmed Ibrahim, Asma Belhamar, Shaikha Al Mazrou, and Afra Al Dhaheri