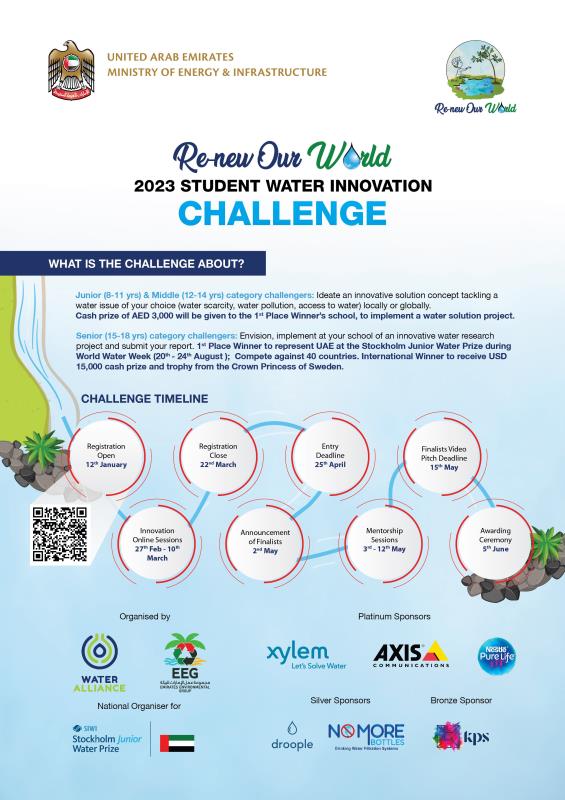 Axis Communications, the global leader in network video and surveillance solutions, has announced its participation in the 2023 RE-NEW Our WORLD Student Water Innovation Challenge. Organized by Water Alliance in association with Emirates Environment Group, two UAE-based environmental non-for-profit organizations, the 3rd edition of this inter-Emirates challenge calls students between the ages of 8 and 18 to ideate innovative solutions for tackling any aspects of the global water crisis.
"Water scarcity is a growing concern, with over two billion people lacking access to clean drinking water. The 2023 RE-NEW Our World Challenge seeks to address this crisis by inspiring young minds to think creatively about solutions that can make a real, impactful difference," commented Ettiene Van Der Watt, Regional Director for Middle East & Africa at Axis Communications. "Given our commitment to building smarter, safer and more sustainable communities in the UAE and across the broader Middle East, this is an excellent opportunity for us to engage with the next generation of UAE innovators and inspire them to use technology to create solutions that can impact the world."
As part of its commitment to the programme, Ronaldo Esguerra, Inside Sales Engineer at Axis Communications hosted an online educational session titled "Cool Tech for a Cool Planet: Tech-Wise Way to a Thirst-Free Future", on the 9th of March, for UAE students interested in participating in the challenge. During the session, Ronaldo explained how surveillance technology — such as network cameras and sensors — and the Internet of Things (IoT) can be used in water conservation applications. The goal of the session was to provide students with knowledge and skills and inspire them as they start designing their own water innovation concepts.
Axis Communications subject matter experts will also provide mentorship to participating UAE students during the duration of the challenge and serve on the jury panel during the review phase of the challenge.
The challenge is divided into three categories: the junior category, open to participants aged between 8 and 11; the middle category, open to 12 to 14 year-old students; and the senior category for high school students aged between 15 and 18. Winners will be announced at an awards ceremony to be held in Dubai, UAE on June 5th marking World Environment Day.
First place winner(s) from the senior category will go on to represent the UAE at the prestigious Stockholm Junior Water Prize International Competition which will be held in Stockholm, Sweden in August 2023. The winner of the international competition will receive a USD 15,000 award and a trophy, presented by the Prize's Patron, HRH Crown Princess Victoria of Sweden.
More information on the 2023 RE-NEW Our World Challenge, including details on how students can register for the competition can be found here.