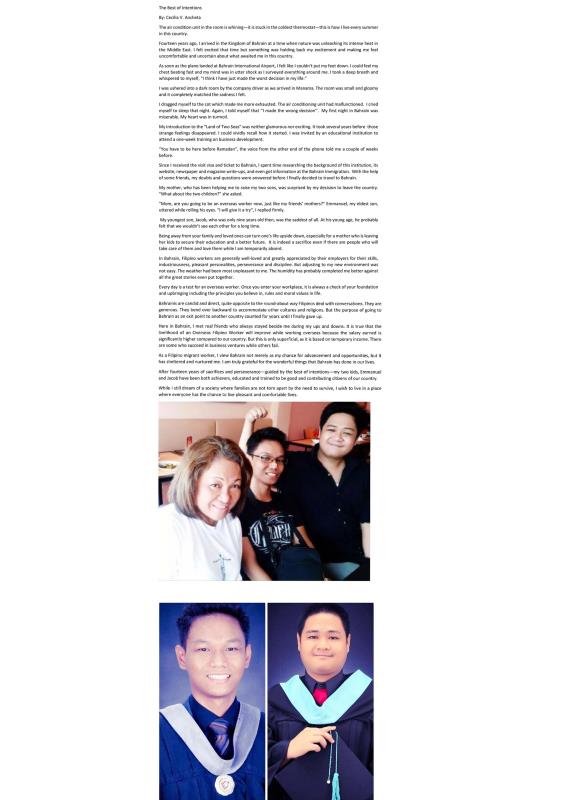 The Best of Intentions
By: Cecilia V. Ancheta
The air condition unit in the room is whining—it is stuck in the coldest thermostat—this is how I live every summer in this country.
Fourteen years ago, I arrived in the Kingdom of Bahrain at a time when nature was unleashing its intense heat in the Middle East. I felt excited that time but something was holding back my excitement and making me feel uncomfortable and uncertain about what awaited me in this country.
As soon as the plane landed at Bahrain International Airport, I felt like I couldn't put my feet down. I could feel my chest beating fast and my mind was in utter shock as I surveyed everything around me. I took a deep breath and whispered to myself, "I think I have just made the worst decision in my life."
I was ushered into a dark room by the company driver as we arrived in Manama. The room was small and gloomy and it completely matched the sadness I felt.
I dragged myself to the cot which made me more exhausted. The air conditioning unit had malfunctioned. I cried myself to sleep that night. Again, I told myself that ''I made the wrong decision''. My first night in Bahrain was miserable. My heart was in turmoil.
My introduction to the "Land of Two Seas" was neither glamorous nor exciting. It took several years before those strange feelings disappeared. I could vividly recall how it started. I was invited by an educational institution to attend a one-week training on business development.
"You have to be here before Ramadan", the voice from the other end of the phone told me a couple of weeks before.
Since I received the visit visa and ticket to Bahrain, I spent time researching the background of this institution, its website, newspaper and magazine write-ups, and even got information at the Bahrain Immigration. With the help of some friends, my doubts and questions were answered before I finally decided to travel to Bahrain.
My mother, who has been helping me to raise my two sons, was surprised by my decision to leave the country. "What about the two children?" she asked.
"Mom, are you going to be an overseas worker now, just like my friends' mothers?" Emmanuel, my eldest son, uttered while rolling his eyes. "I will give it a try", I replied firmly.
My youngest son, Jacob, who was only nine years old then, was the saddest of all. At his young age, he probably felt that we wouldn't see each other for a long time.
Being away from your family and loved ones can turn one's life upside down, especially for a mother who is leaving her kids to secure their education and a better future. It is indeed a sacrifice even if there are people who will take care of them and love them while I am temporarily absent.
In Bahrain, Filipino workers are generally well-loved and greatly appreciated by their employers for their skills, industriousness, pleasant personalities, perseverance and discipline. But adjusting to my new environment was not easy. The weather had been most unpleasant to me. The humidity has probably completed me better against all the great stories even put together.
Every day is a test for an overseas worker. Once you enter your workplace, it is always a check of your foundation and upbringing including the principles you believe in, rules and moral values in life.
Bahrainis are candid and direct, quite opposite to the round-about way Filipinos deal with conversations. They are generous. They bend over backward to accommodate other cultures and religions. But the purpose of going to Bahrain as an exit point to another country counted for years until I finally gave up.
Here in Bahrain, I met real friends who always stayed beside me during my ups and downs. It is true that the livelihood of an Overseas Filipino Worker will improve while working overseas because the salary earned is significantly higher compared to our country. But this is only superficial, as it is based on temporary income. There are some who succeed in business ventures while others fail.
As a Filipino migrant worker, I view Bahrain not merely as my chance for advancement and opportunities, but it has sheltered and nurtured me. I am truly grateful for the wonderful things that Bahrain has done in our lives.
After fourteen years of sacrifices and perseverance—guided by the best of intentions—my two kids, Emmanuel and Jacob have been both achievers, educated and trained to be good and contributing citizens of our country.
While I still dream of a society where families are not torn apart by the need to survive, I wish to live in a place where everyone has the chance to live pleasant and comfortable lives.