Hyderabad's top legacy jeweller, has achieved eight Guinness World Records titles, becoming the first Indian jeweller in history to accomplish such a feat. To commemorate the occasion, a grand celebration attended by high profile dignitaries and celebrities unfolded at the breathtaking Taj Falaknuma Palace in Hyderabad.
Disha Patani who strutted the ramp in one of Shiv Narayan's high jewellery pieces. Her ethereal presence not only showcased its intricacy but also the craftsmanship and its breathtaking elegance. The evening unfolded as a captivating showcase of fashion, glamour, and exquisite jewellery but the highlight of the event was the unprecedented 'Experiential Zone'- an immersive experience of the record-breaking jewels themselves. The four zones, dedicated to each of the creations, exhibited the inspirations, innovation and nuances of the pieces.
The first of the four, The Ganesha Pendant, achieved the Guinness World Records title for The Heaviest Pendant weighing in at 1011.150 grams and The Most Diamonds Set On A Pendant (11,472). A testament to exquisite craftsmanship, the handcrafted jewel took 6 ½ months to create.
Shiv Narayan Jewellers went on to break their own record: The Ram Darbar achieved the world record for The Heaviest Pendant at 1681.820 grams and The Most Diamonds Set On A Pendant with 54,666 diamonds. It also became The Heaviest Diamond Pendant exceptionally designed over 8 ½ months with diamonds inscribing Sri Ram (Lord Ram) even on the back.
The Satlada Necklace (The Seven Layer Necklace) is Shiv Narayan's third award winning masterpiece. With 315 emeralds and 1971 fine diamonds, it now holds the records for The Most Emeralds Set On A Necklace and The Most Diamonds Set On A Necklace. The sourcing of the gemstones for this necklace alone took 2 ½ years and the piece was crafted over 5 ½ months. Paying homage to the ancient treasures of the Nizams, an integral part of Shiv Narayan's heritage, The Satlada Necklace is a resplendent creation exemplifying the dedication and attention invested in each piece.
Elevating luxury to new heights, Shiv Narayan Jewellers' The Magnifying Glass holds an impressive value of $108,346 making it The Most Expensive Magnifying Glass.
Expressing his elation and gratitude for this remarkable achievement, Mr. Tushar Agarwal, Managing Director - Shiv Narayan Jewellers Pvt Ltd, stated, "We are truly humbled to have achieved 8 Guinness World Records Titles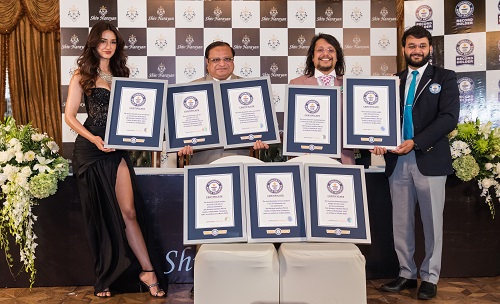 Shiv-Narayan-Jewellers