LEGOLAND® Dubai Resort invites all families with children aged 2-12 years in the UAE to triple their Eid Al Adha celebrations this year, from 27. June to 2. July 2023 with an unforgettable 3-in-1 Playcation that features LEGOLAND® Hotel sleepover, access* to 40 rides and attractions at LEGOLAND® Dubai theme park including a brand new 'LEGO® Friends' area, as well as access to 20 waterslides and attractions at LEGOLAND® Water Park and kids* eat free at both parks. Furthermore, 10% discount* is guaranteed when booking LEGOLAND Hotel sleepover on LEGOLAND® website using mobile phone, where kids enjoy free* breakfast and dinner. Furthermore, non-stop family activities await its guests at LEGOLAND Hotel, from treasure hunt with LEGO® gift in every room, access to free* creative workshops, outdoor family pool with splashpad area or Castle Play Area, LEGO® play pits and meet & greet of LEGOLAND® beloved characters in the hotel lobby.
At LEGOLAND Dubai Resort, parents will enjoy an unforgettable Eid al Adha celebration with their youngsters with Theme Park rides together with an exclusive new summer event, Water Park splashes and hotel adventures as part of the awesome 3-in-1 Playcation. Planning this special occasion ahead, families will enjoy 10% discount when booking their LEGOLAND Hotel sleepover in one of 5 room themes including 'Pirate' or 'Adventure', 'LEGO® NINJAGO®', 'LEGO® Friends', or 'Kingdom', which accommodates a family up to 5 people. For larger families, extensive suite options await them to choose from 1 Bedroom Family suite accommodating up to 8 people, 2 Bedroom Family suite accommodating up to 13 people, 3 Bedroom Family suite accommodating up to 21 people to the Super Suite that can accommodate up to 26 people. A wide range of family-friendly activities can be explored at LEGOLAND Hotel including the huge Castle Play area in the middle of the lobby, the LEGO play pits with hundreds of LEGO® bricks, the exclusive creative workshops offering playful learning LEGO® adventures - designed to accommodate the different age groups- as well as interactive games and competitions, LEGOLAND character appearances throughout the day – in addition to outdoor family pool and splashpad area – all supervised by well – trained LEGOLAND Hotel teams.
A daily extensive breakfast buffet at Bricks Family Restaurant, awaits all families every morning with a wide variety of healthy and delicious bites as well as an Arabic-International inspired Eid Al Adha dinner buffet that presents exquisite delicacies from traditional Arabic and international cuisines – both created by LEGOLAND Hotel talented culinary team. The generous Eid Al Adha dinner buffet invites all UAE food lovers for a culinary adventure to explore its diversity with culinary masterpieces featuring local Emirati dishes, authentic Egyptian bites, delicious Lebanese, and Syrian delicacies as well as international specialities. Some of the irresistible dishes include lamb Ouzi with oriental rice, chicken mussakhan, koshari, seafood paella, vegetables maqluba, rotisserie chicken, vegetables lasagne in addition to the flavourful cold & hot mezzehs featuring kibbah, falafel and assorted manakeesh as well as healthy salads including assorted hummus, tabouleh, fatoush, moussaka, fish harra, baba ghanoush and seafood salad. Sweet lovers will enjoy a wide dessert selection from mohalabia, Umm Ali, tiramisu, Arabic sweet to French pastries, cheesecake and fresh fruits – together with a dedicated corner for cheese lovers. Young foodies will enjoy their favourite bites at dedicated kids' height buffet featuring chicken popcorn, rainbow puree, mini pizza, chicken tenders and assorted cold canapes whether spinach waffles, pinwheel canapes or egg canapes. This impressive Eid Al Adha dinner buffet welcomes hotel as well as non-hotel* guests, where the little ones will enjoy non-stop fun at the huge Castle Play area steps away from Bricks Family Restaurant as well as meet and greet their LEGOLAND beloved characters.
To maximize Eid Al Adha's fun even further, every hotel guest will enjoy access with unlimited rides to at least one of LEGOLAND parks, including LEGOLAND Dubai theme park with its 40 rides and attractions across six lands featuring many indoor attractions from The Dragon rollercoaster, Submarine Adventure, LEGO® Studios 4D, Lost Kingdom, Build & Test to the indoor-airconditioned MINILAND, where famous landmarks made from 20 million LEGO® bricks. A new 'LEGO® Friends' area can be explored, where youngsters will virtually meet their LEGO® Friend of their choice as part of an exclusive interactive LEGO® adventure. To refuel the energy of all the young foodies, Caesar's Pizza & Pasta Buffet with its tasty salad and pasta bar, live cooking stations and a mouth-watering selection of vegetarian and non-vegetarian pizzas invites Kids to Eat for Free* throughout the day.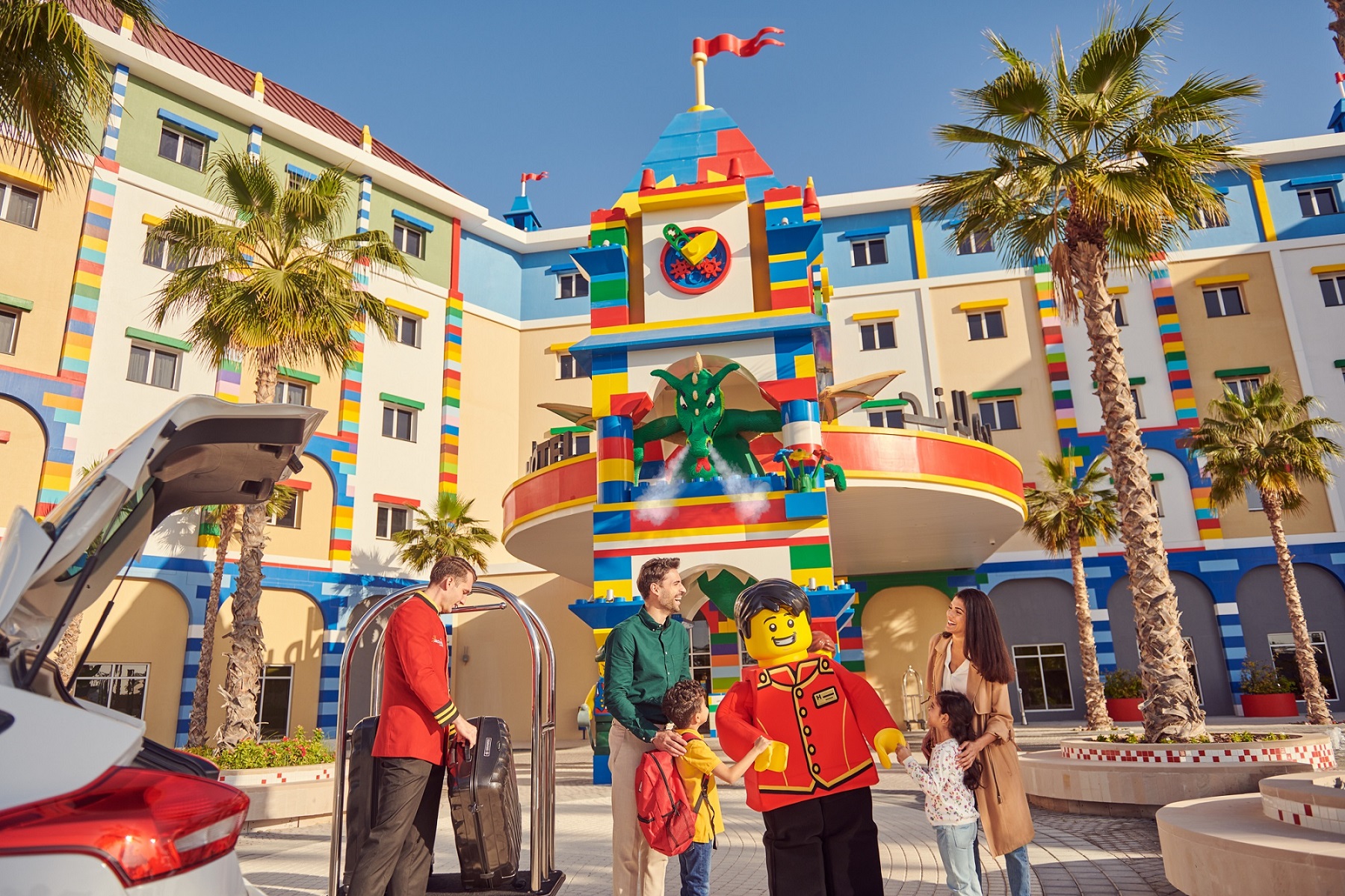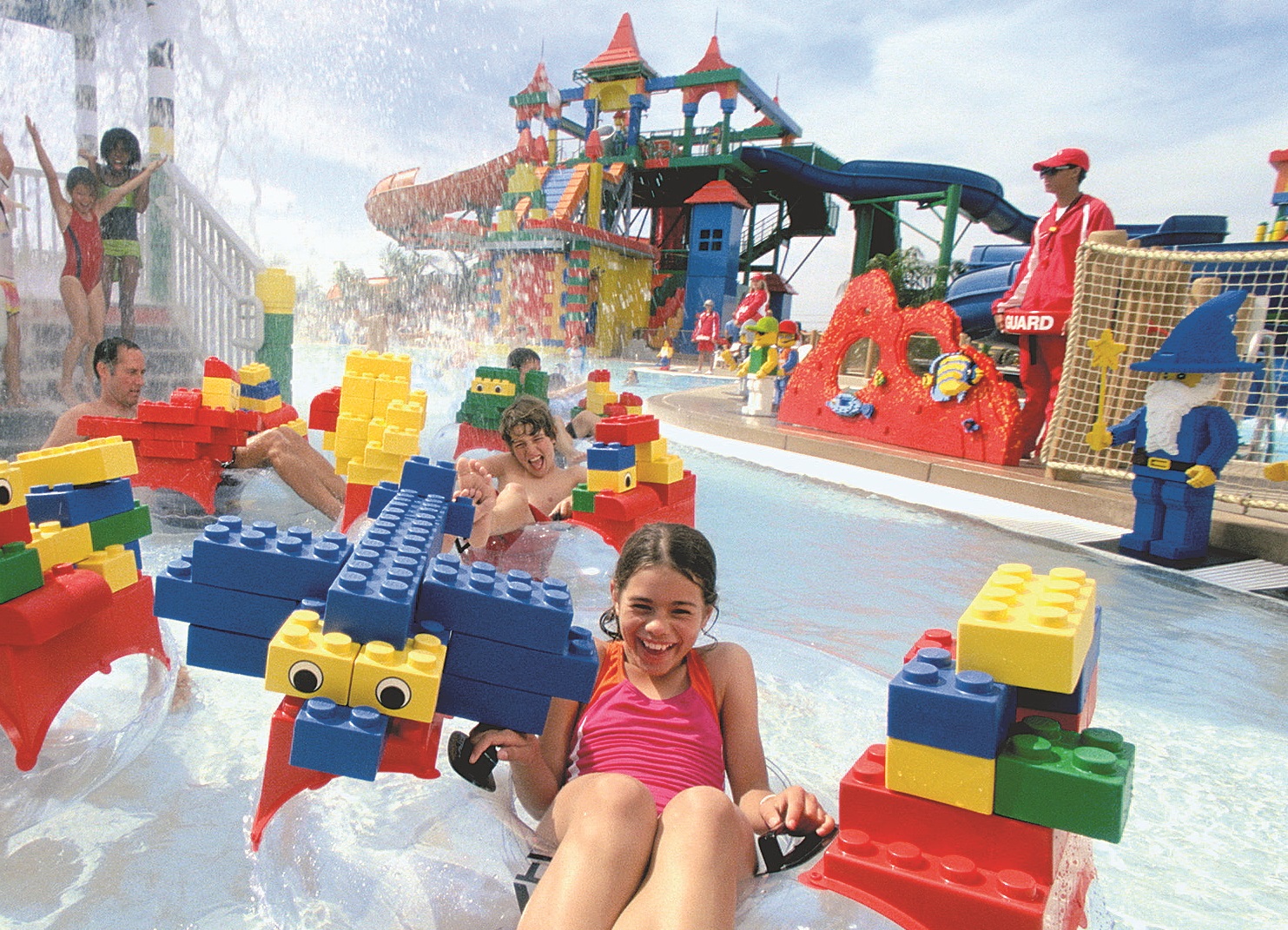 LEGOLAND Water Park