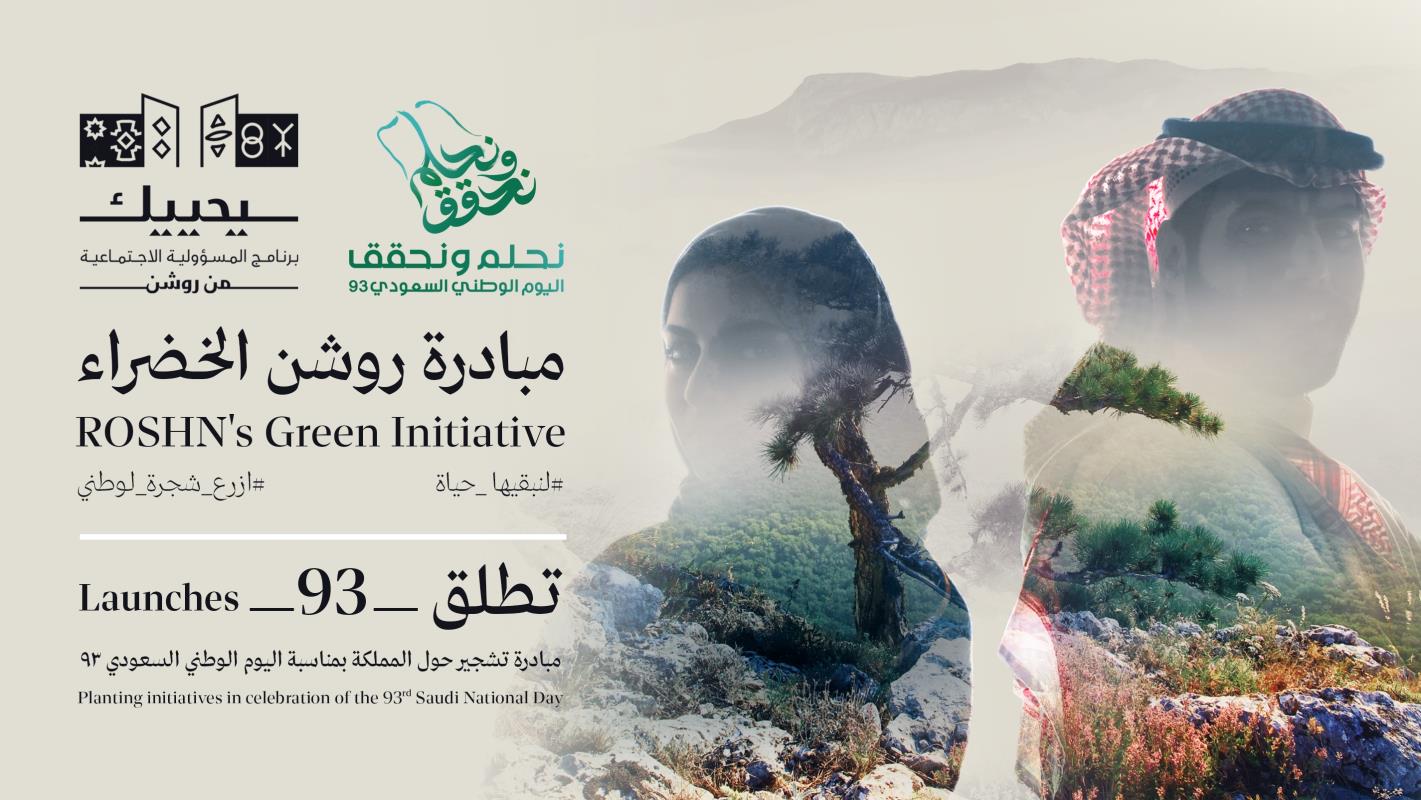 As the pride of Saudi Arabia's 93rd National Day shines brightly, ROSHN, the Kingdom's leading national real estate developer and PIF-funded giga-project, unfurls 93 pioneering planting initiatives. Coinciding with this special occasion, ROSHN's initiative serves as a testament to the Saudi Green Initiative launched by His Royal Highness Prince Mohammed Bin Salman, the crown prince of Saudi Arabia and the chairman of ROSHN's board of directors. By striving towards a verdant Saudi Arabia and the preservation of the Kingdom's vast landscapes, ROSHN actively contributes to several key aspirations of the Saudi Green Initiative. This commitment further resonates with the values of ROSHN's CSR program, YUHYEEK, emphasizing ROSHN enduring dedication to environmental sustainability.
The compass guiding this ambitious journey, filled with fervor and foresight, is the Group Chief Marketing & Communication Officer of ROSHN, Ghada AlRumayan. Her unwavering dedication seeks to breathe life back into the land while knitting a tapestry of trust and unity with the community.
ROSHN will distribute and plant a total of over 65,000 trees across a range of different initiatives to support sustainability, the environment, and quality of life, and has already initiated its commitment to a greener future. At the inaugural launch of CityScape in Riyadh, visitors actively engaged in planting trees, symbolizing a joint effort towards sustainability. These trees, enriched by the collective care of the event's attendees, have been seamlessly transitioned to their new home in the ROSHN Front and SEDRA community in Riyadh. Building upon this initiative, ROSHN is set to further its environmental endeavors by planting additional trees within the ROSHN Front, integrating 1,500 trees in SEDRA, and rolling out school distribution, planting, and awareness sessions with an ambitious goal of 31,000 trees. Furthermore, a significant effort will be channeled into the mangrove planting in three distinct locations, aiming for a contribution of 25,000 trees. These diverse efforts not only symbolize actual planting but emphasize giving away plants, nurturing a young generation's love for the environment, and instilling an awareness that drives a larger collective to contribute to the overarching goal of a greener future.
"On the radiant occasion of our 93rd Saudi National Day, we stand with boundless pride and profound purpose. As we reflect upon our journey and envision the horizons yet to unfold, today symbolizes more than just another year in our nation's illustrious history.
The greatest gift we can bestow upon our homeland is one that nourishes, endures, inspires, and flourishes. Our green initiative exemplifies this sentiment. It's not just about planting; it's a profound gesture of love and commitment to our land. From the delicate hands of our youngest — the children who lovingly plant, water, and watch with hope — to the steadfast guidance of the visionary leadership of this country, every aspect of this initiative resonates with a tale of unity, dedication, and growth.
Our narrative is one of a nation, deeply rooted in its history, ceaselessly nurtured by its people, and bolstered by the wisdom and foresight of our leaders. Blossoming day after day, we're on a journey towards a brighter and more sustainable future. As we commemorate this day, we pledge our continued allegiance to a greener, more vibrant Saudi Arabia. To every soul that celebrates today, I salute our collective spirit of hope, unity, and the verdant promise we're crafting for generations to come." Ghada Alrumayan, Group Chief Marketing & Communication Officer at ROSHN expressed.
Beyond the initial act of planting, ROSHN's initiatives seamlessly combine the provision of tools and equipment with robust logistical support, ensuring that every tree blossoms to its fullest potential. This meticulous approach, anchored in a commitment to long-term maintenance, highlights ROSHN's dedication to nurturing the vitality of each plant. It projects a future where every leaf stands as a symbol of dedication and sustainability. As each tree rises, it embodies ROSHN's enduring ethos, casting a beacon of hope that spurs generations to aspire and thrive.