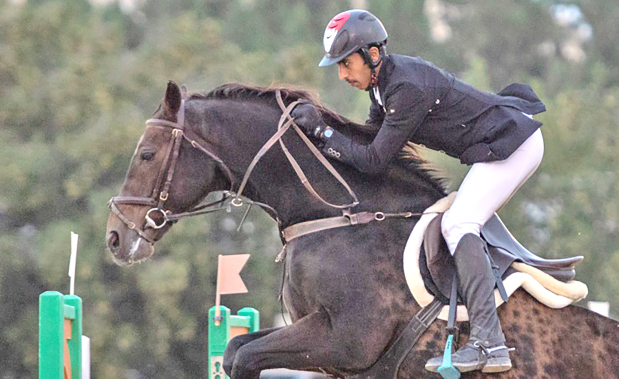 Promising showjumping rider Mayoof Al Rumaihi yesterday clinched the grand prize of the third round, held at Al Raffa under the patronage of Bahrain Royal Equestrian and Endurance Federation (Breef) president Shaikh Isa bin Abdulla Al Khalifa, reports GDNOnline.
Egyptian Embassy Acting Charge d'Affaires Ahmed Khafaji and Breef Showjumping Promotion Committee chairwoman Huda Janahi present Al Rumaihi with the trophy.
Riding Alvera, Al Rumaihi outclassed his opponents and won the first race without any mistake and the second race with four mistakes, clocking 53.63 seconds.
BDF Team rider Salman Faraj came second after clocking 56.61 seconds, followed by Al Rumaihi (again), who finished third with 61.11 seconds.
Veteran rider Sam Ghazwan came fourth after clocking 50.56 secs in both races, leaving behind him Haitham Al Bastaki (59.88 seconds) and Ahmed Akbar (59.82 seconds).
Al Rumaihi also dominated the beginners' category, Level 1 – 110cm obtstacles, riding Hollywood to clock 39.12 seconds and totalling 44 points.
Click here to read more