The New Year brings a fresh fashion vibe that is vibrant, bold, playful and nostalgic. It also offers a new fashion path that is aesthetically appealing and sustainably friendly. What better time to take stock of what is in your wardrobe than this month in order to be 2023 ready.
According to Catriona Macleod, the head of buying at Fabric of Society, a platform for artisan designers and next-gen labels, this year is all about 'timeless designs that can be worn again and again – forming the foundations for the ultimate capsule wardrobe'.
British Vogue magazine also said that 'the fashion crowd will be split into two groups: Those who embrace the sheer looks that sweep the spring/summer 2023 runways, and those who take the understated route via maxi hemlines and sleek tailoring'. They added that on TikTok, Gen-Zers would continue to adorn all things 1990s and 2000s.
As for hues, the WGSN trend forecasting company said the colours for 2023 include digital lavender, luscious red, sundial, tranquil blue and Verdigris. Meanwhile, world-renowned Pantone, which provides a universal language of colour for designers of all kinds, say this year's shade is viva magenta.
GulfWeekly touched base with fashion experts in Bahrain and the region to get their takes on trends from around the world.
"The vibe this year is colourful, fun and adventurous with lots of prints and dramatic shapes," said Bahraini designer Fatima Al Samahiji, who had showcased her love for the kingdom's crafts and creations at the third International Thai Silk Fashion Week, held in honour of Her Majesty Queen Sirikit (the Queen Mother's 90th birth anniversary).
The talented 32-year-old art teacher - who has been creating clothing and trendy attire since she took a course and participated in a show in 2007 - added that one of the 2023 trends include sheer fabrics.
"Sheer fabrics have been popular for several seasons but never more so than for Spring/Summer 2023," she explained. "We saw a lot of this in 2022 and it will continue in 2023 with lace trends, sheer panels in clothing and plenty of layering."
Other styles to consider are low-rise waists.
"Low-rise denim, shorts or evening skirts with crop tops are back in fashion," she added. Low-rises have been available since the 1960s with their popularity increasing in the early 1970s and then completely taking over the fashion scene in the 1990s and 2000s.
"Cargo pants are also on trend, as well as ballet flats and platform heels," she continued. "Anything oversized (specifically blazers) and geometric cut-outs are in too."
Slouchy, oversized blazers were all the rage with designer brands such as Valentino and even Chanel opted for relaxed-fit versions of its trademark bouclé jackets in playful pinks...a colour that took the globe by storm because of the making of the Barbie movie, which will be out in July this year. It was part of the 'Barbiecore' movement, which is the hyper-feminine, pretty-in-pink aesthetic pioneered by the doll. It is playful and bright, which is what former Bahrain-based Malaysian fashion designer Mo Jian Yung predicts will continue this year — shades that exude positivity!
"History has always lent itself to be a good example of the direction of fashion," said Mo Jian, 33, sustainable and eco-friendly designer of Jung. "We're going to see more exciting textures like sequins and leather along with various silhouettes — but more notably the voluminous ones — as those pandemic-gained curves have to blend somewhere. Combine that with soft and bright colours.
"Sheer and see-through fashion is making a comeback and pantsuits are definitely here to stay. Let us not forget those body chains! Fashion for 2023 will generally be a little extra as the world opens up and people can't wait to be on the move again!"
Faux fur is also popular with a strong presence this year, according to Bahraini fashion designer Talal Al-Kaabi who had won the category of 'designer with international capabilities' in the 'Paris to Manama' fashion show. He was awarded an internship course in Paris, which he has yet to attend.
"All things denim are in too," said the 31-year-old. "You can wear it all at once, as in a top and trousers in different shades and cuts or as separates. Either way, denim is in!
"Also, think distinctive pieces with intricate and cool designs on the back of outfits. Short skirts over trousers are also back in style."
For formal suits, he says shorts have taken over for classic trousers and in terms of fabrics, expect shiny or floral patterns of all kinds.
"Corsets are also popular in a big way along with fringe, frills, threads and sheer designs," he continued. "There are so many trends to choose from and I encourage Bahraini designers to be inspired by any of these styles and include them in their collections and looks in their own creative ways. Go ahead and reinvent the trends too."
With everything that has been shared, Bahraini personal fashion stylist Aysha Adel Mattar, 40, advises people to consider 'working towards building a capsule wardrobe – one that contains pieces that help complete and compliment, as well as be worn easily with each other or with key style pieces'.
"My clients have a more conscious approach to buying now, whether it's purchasing less, or more sustainable brands or seeking out preloved or vintage items," said Aysha, who started her fashion journey with a 'Pretty Fashion Forward' blog back in 2009 after taking a few courses at London College of Fashion and Central Saint Martins.
She also had an internship with fashion stylist Kate Ruth in the UK and did a few more internships at Grazia and Saks Fifth Avenue in Dubai. She has been pursuing styling more seriously in Bahrain, adopting a more conscious approach.
"The trends I've also noticed from my clients are 90s looks," she said. "From cargo pants to yin-yang motifs as well as Nirvana grunge and top-to-toe denim. Blue eyeshadow is a thing as well. It's fun, playful and a huge nod to the 80s, so what's not to love?
"Cowboy boots are in too and they come in all sorts of designs, colourways and lengths. So think fun and playful and don't forget to dust off your high school wardrobes or your parents' high school wardrobes to enjoy vintage trends."
For details, follow
@talal.alkaabipvt,
@ayshamattar_stylist,
@jungethos and
@alsamahiji on Instagram.
Email [email protected] or follow @voice_of_mai on Instagram.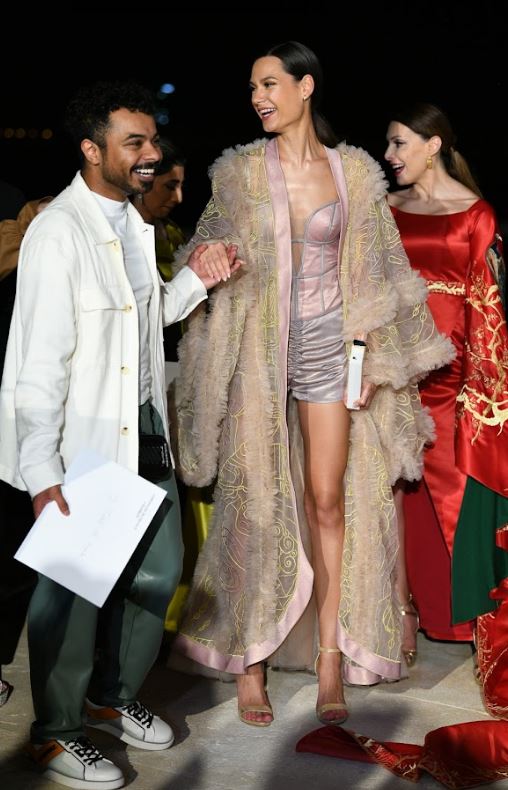 Fashion designer Talal Al Kaabi with a model wearing his designs during Paris to Manama show in Bahrain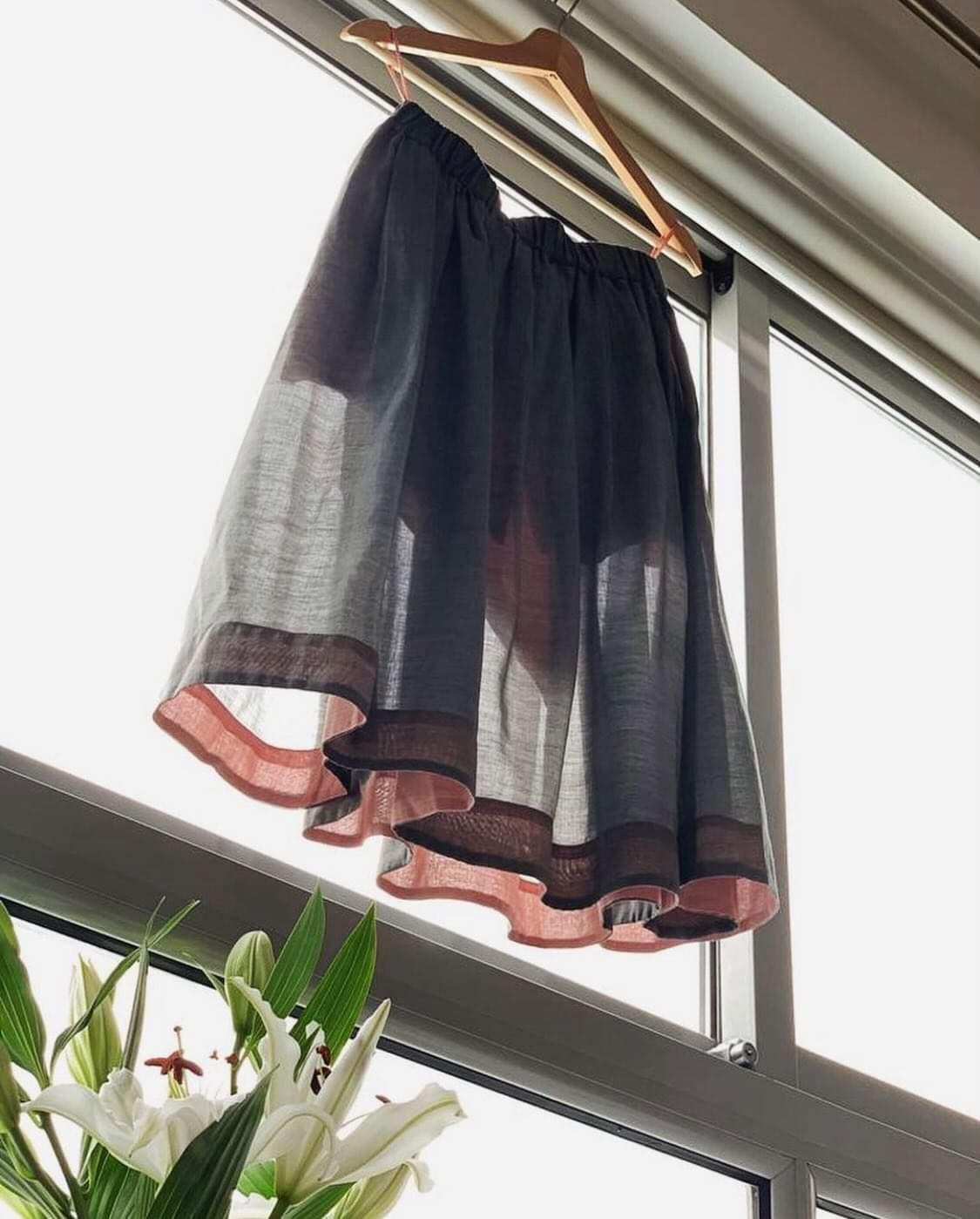 Mo Jian's sheer and voluminous skirt design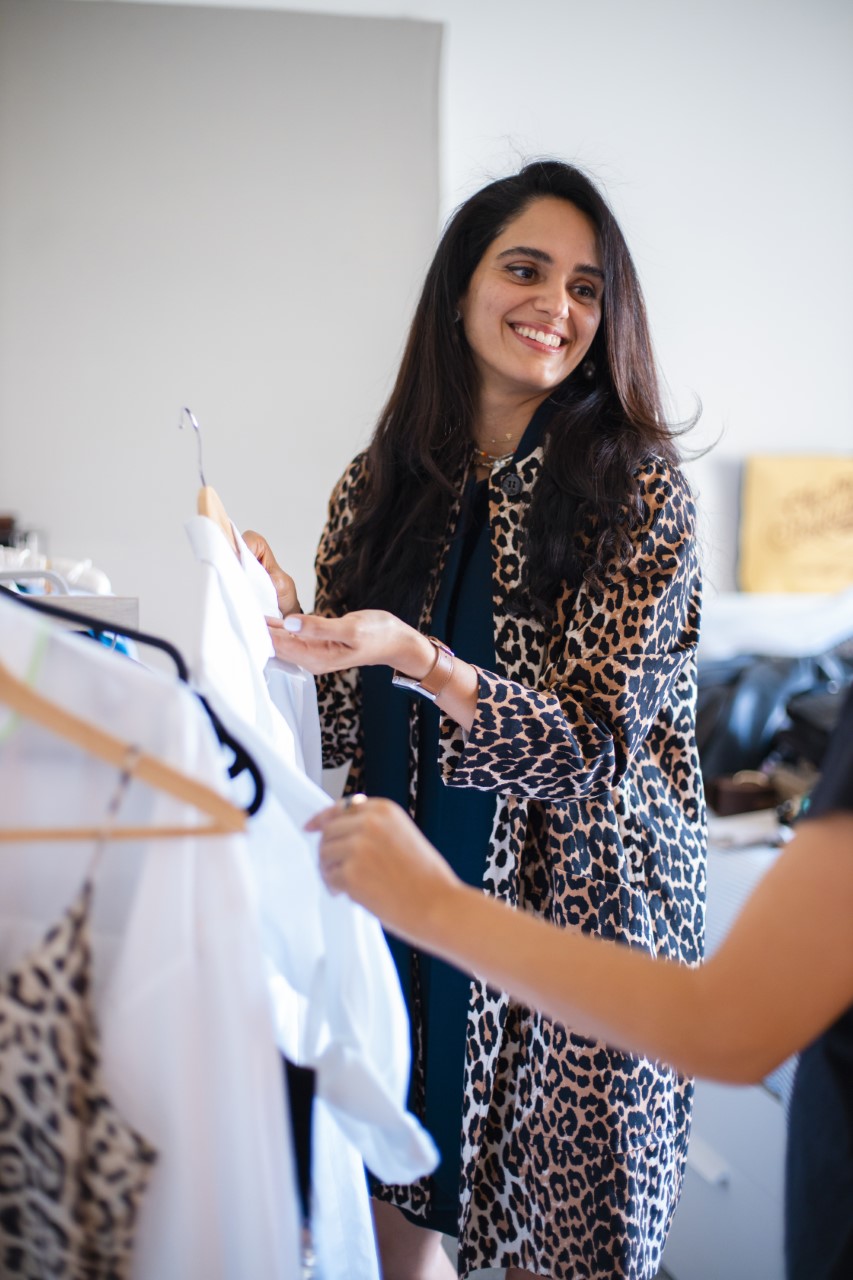 Stylist Aysha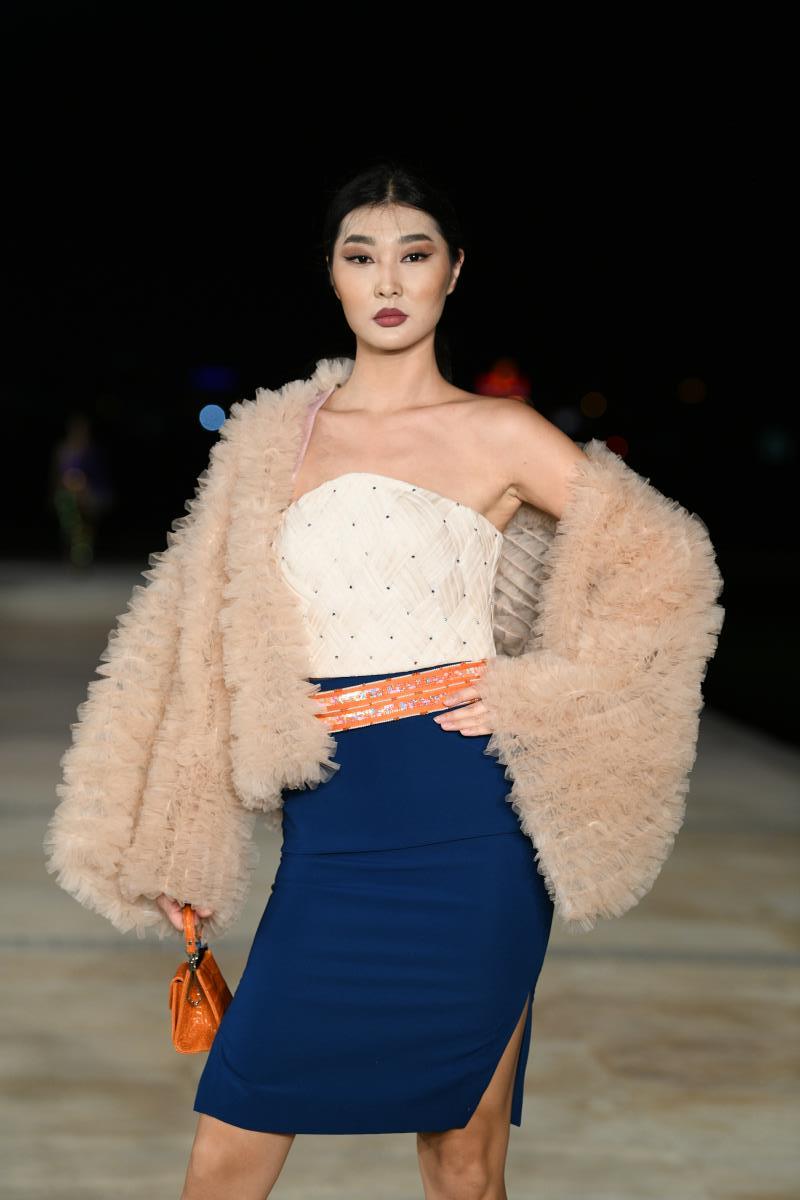 One of Talal's other designs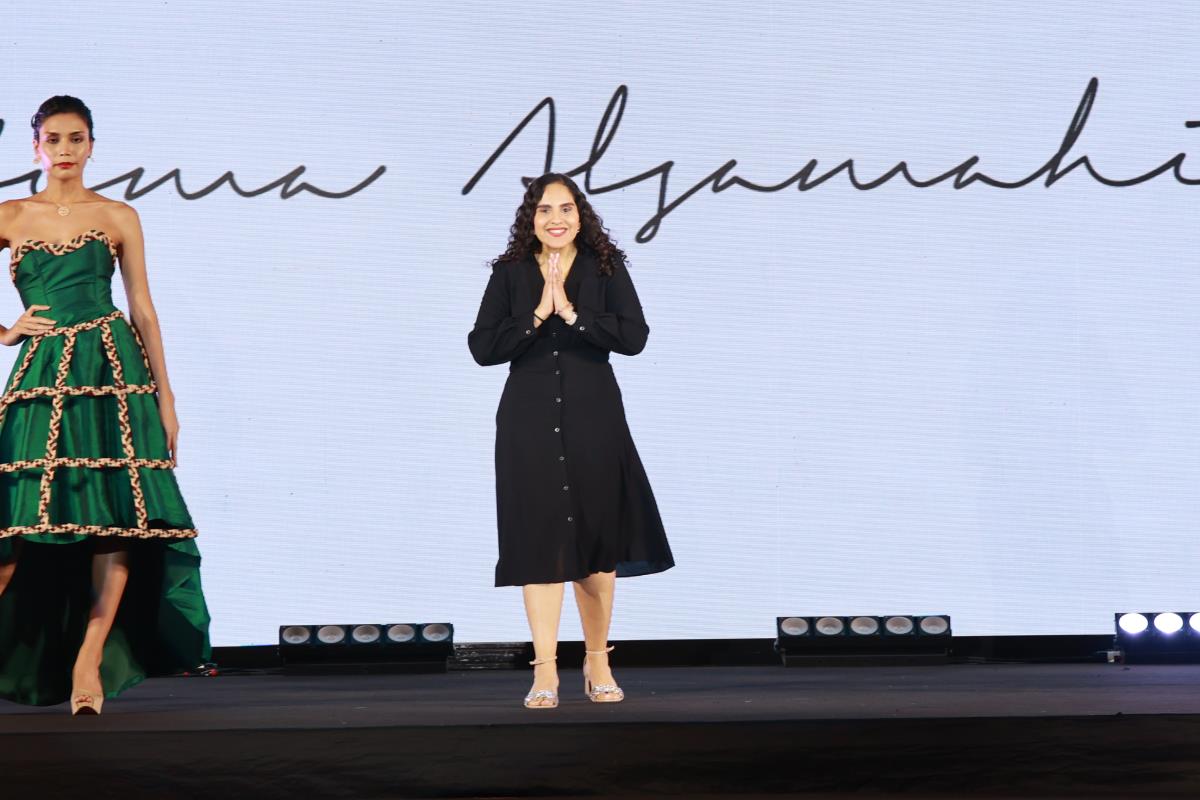 Designer Fatima during her Thai fashion showcase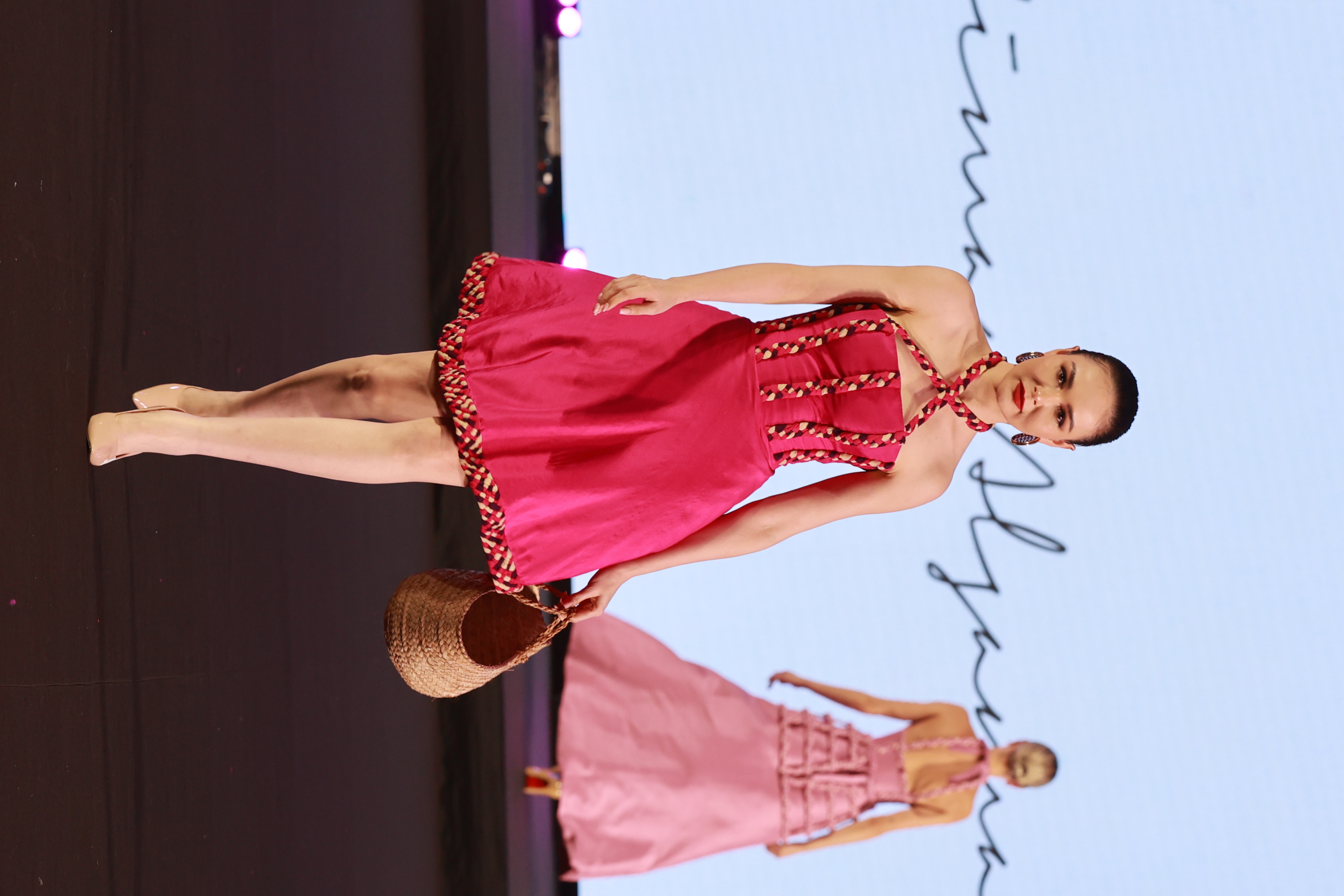 Another one of Fatima's looks