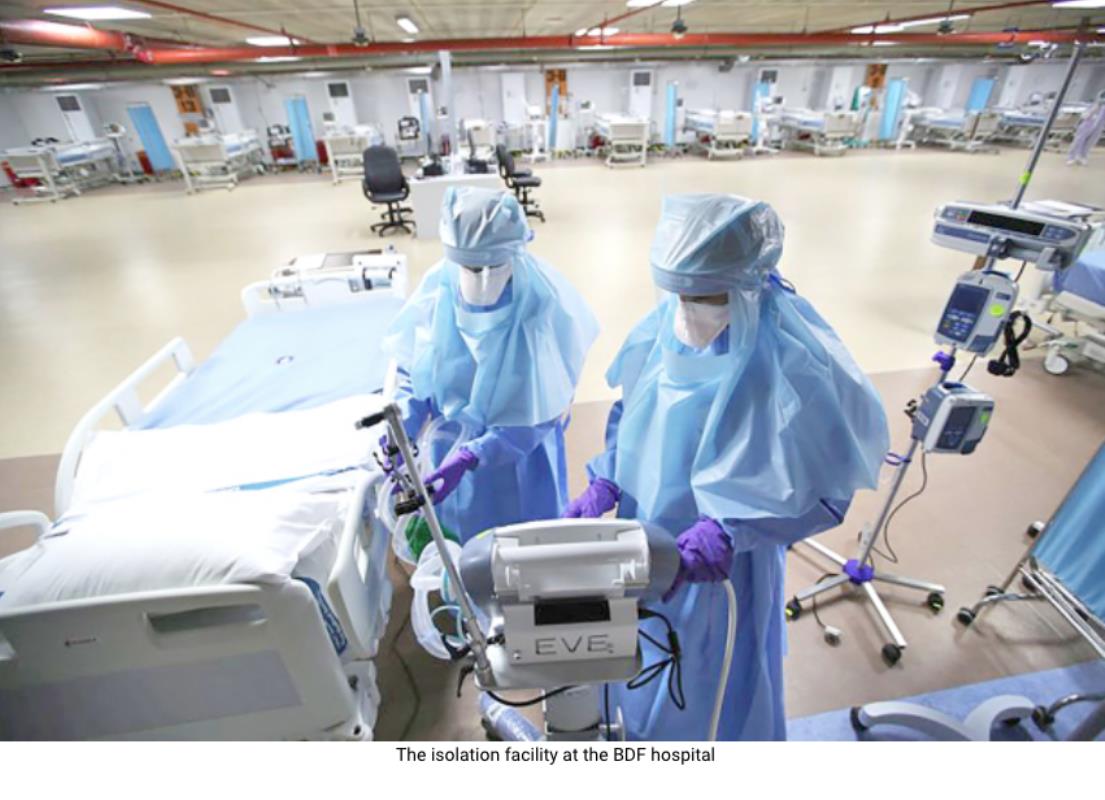 BAHRAIN has crossed 20,000 cases of Covid-19, as the country registered another 469 new cases and 511 recoveries yesterday, the GDN's Raji Unnikrishnan reports.
Since the outbreak started in Bahrain on February 21, the country has registered a total of 20,430 cases of the coronavirus, which includes 5,679 active cases, 14,696 recoveries and 55 fatalities.
Despite a drastic spike in the number of new cases in the last few weeks, which health authorities have attributed to the public's reckless disregard to Covid-19 guidelines, the country has sufficient capacity in treatment, isolation and quarantine facilities.
Health Ministry Under-Secretary Dr Waleed Al Manea said plans were also in place to increase the number of frontline medics if needed.
He revealed that more than 3,000 employees are working on the frontlines of the pandemic, of which not less than 2,000 are medics.
"There are over 3,000 frontline employees of which not less than 2,000 are doctors and nurses, while the others include all those who serve in the field," he said.

"They include cleaners, security guards, helpers, drivers and technicians, who are all frontline employees.

"Yes, we see an increase in the number of cases and based on the need we will also increase the capacity of the facilities."
He explained that medics are distributed among treatment, isolation and quarantine facilities based on a mechanism which continues to be updated depending on requirements.
"So, in that case, if needed, we will increase the number of trained medics as well as those assigned to these facilities," he added.

"Each individual is on the frontline when it comes to combating the virus and it is your responsibility to contribute towards achieving this goal."
The current absorptive capacity of isolation and treatment centres is 8,170 beds, of which 3,922 beds are occupied.
The capacity of the precautionary quarantine centres are 3,410 beds, the occupancy of which is 668 beds.
The free public treatment and quarantine facilities are in Hidd, Sitra field unit, Muharraq Geriatric Hospital, Jidhafs Maternity Hospital and the Hereditary Blood Disorder Centre at Salmaniya Medical Complex (SMC).
The isolation facility is the Ebrahim Khalil Kanoo Health Centre in Salmaniya and a 130-bed facility at the BDF Hospital, while the International Hospital Bahrain (IHB) on Budaiya Highway is also being prepared as a facility.
The Bahrain International Exhibition and Convention Centre (BIECC) in Sanabis has been turned into an integrated facility to screen, test and treat cases, which also has a drive-through section to help residents get tested.
The country also has paid private sector treatment and isolation facilities including Hotel Park Regis Lotus in Juffair and a number of other hotels monitored by private hospitals.
Meanwhile, health authorities have revealed that 1,718 of active Covid-19 cases are in home isolation, an option which was extended to asymptomatic patients since June 7.
Among the other criteria for home isolation are that the individual should be aged below 60 and not have any underlying or chronic health conditions.
Dr Al Manea previously explained that the country's dedicated Covid-19 hotline, 444, has managed to provide immediate responses with solutions to 90 per cent of the calls, while the rest are transferred to relevant authorities.
The GDN reported last week that the 444 call centre received more than 85,000 calls during that week alone, while the total number of calls since its inception in late February was more than 445,000 calls.